Friday November 2, 2007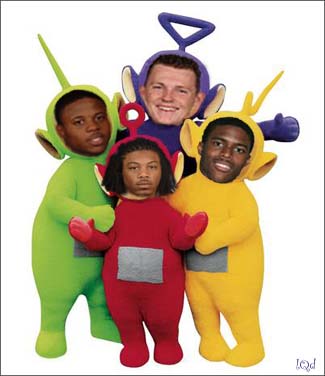 Credit to ladyQdawg on the DawgVent
The AJC ran an article on Wednesday detailing how valuable Georgia Tech considers its Thursday night ESPN appearances.
"It's just like Monday Night Football in the NFL," Yellow Jackets coach Chan Gailey said. "You do get the national stage."

A Thursday night game at Bobby Dodd Stadium is electric," (Giff) Smith said. "It definitely helps us in recruiting. The atmosphere is what it's all about."
After Tech's most recent Thursday night game, a 27-3 loss to Virginia Tech last night, Tech fans are probably thinking less about the electric atmosphere and more about the electric chair for Chan Gailey.
While the national stage gives you the opportunity to showcase your program, the exposure can also turn on you. Last night ESPN viewers were treated by the home team to a non-sellout, jerseys stolen from the visitors locker room, a turnover fest, boos, and a stadium that started emptying in the third quarter.
Things got so bad that even the ESPN crew got into the act of ragging on the Yellow Jackets. Did you know that QB Taylor Bennett dressed up as Tinky Winky from the Teletubbies for Halloween? Me neither. But thanks to Chris Fowler and the rest of the crew, we do now. As Bennett's night descended into a living hell, Fowler and company became more and more relentless with the Tinky Winky references. (Did Fowler really imply something about his state of mind when he watched the Teletubbies?)
The night ended with a still shot of the Teletubbies while the Georgia Tech fight song played over it. On this night on this "national stage" in an atmosphere that challenged touching a door knob for electricity, Tech ended up being humiliated and mocked. They are now 9-and-11 under Thursday Night Lights.