Thursday November 1, 2007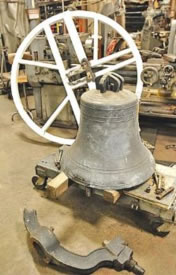 Photo: Athens Banner-Herald
The celebration back on campus was a bit too much for the Chapel bell to take:
The yoke that holds the 172-year-old bell in place broke Saturday night as fans clanged to celebrate the Bulldogs' 42-30 win over the University of Florida.

The bell fell to a wooden platform inside its tower and no one was injured, but the break ended the ringing to celebrate a rare win over the Gators, only the third Georgia win in the last 18 games between the two teams.
The bell should be repaired and back in place in time for this weekend's game, but go easy on it – more permanent repairs are going to be required after the football season.
Kudos to Doug Roberts and the UGA welding shop for the quick fix. Kinda sucks when tech support from the original manufacturer hasn't been available for over 50 years.