Tuesday October 30, 2007
I got married back in June of this year. Though others might claim that I fell for the beauty or intelligence of this woman with two degrees from the University of Georgia, the reality is that I married her for a single reason: her higher Hartman Fund score meant access to Florida tickets.
I thought that was one heck of a dowry, but things got even more interesting. It turns out that she had not attended a Georgia-Florida game since 1989. In fact, she never saw a loss to Florida in the three games she attended from 1987-1989. With that information (and two tickets) in hand, there was no way that she was going to miss the first Georgia-Florida game of our marriage. She has still never witnessed a Georgia loss in Jacksonville. Cards, letters, bouquets, and a self-cleaning litter box can be sent to my lovely bride Karen.
Before you ask – yes, we are planning to be there again next year.
Great job, offense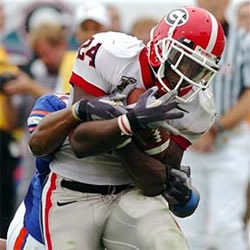 I put the game squarely on the shoulders of the offense, and boy did they do what they had to. Though the passing game did have several key plays (including uncharacteristically long touchdown passes), not many people expected the running game to be the story of the victory from the opening drive. The blocking was there, Moreno was magnificent, and Stafford and the receivers efficiently moved the chains when they had to.
As we expected, Florida put points on the board. It's no shame to give up 23 to the Florida offense – only Auburn surrendered fewer points to them. That meant that Georgia couldn't take the foot off the gas for a second, and they didn't. From the opening drive to two huge fourth quarter touchdowns to a simple first down on the final possession which let the Dawgs end the game on their terms, Georgia executed on offense when they had to.
Most important were the answers. Though Florida stood toe-to-toe and delivered plenty of punches of their own, Georgia was able to answer nearly every big Gator score. Florida had tied it at 7, and you might have thought that the momentum from Georgia's early celebration was gone. Massaquoi's touchdown erased those thoughts. Florida answered Henderson's 4th quarter touchdown quickly, and no one felt comfortable up 35-30. The Dawgs didn't cave, and a key third down conversion to Bailey led to Moreno's clinching touchdown.
My favorite answer was after Florida took a 17-14 lead. If you think back to 1997, Florida also erased a Georgia lead by going up 17-14. In that game, a long Bobo pass to Corey Allen set up a Robert Edwards dive over the pile to retake the lead, and the Dawgs never looked back. In 2007, Georgia also never let the Gators get comfortable with a lead. My play of the game was a flare to Moreno on 3rd and 4 that could have been stopped for a loss and a 3-and-out. A 3-and-out following a lead change could have been devastating to Georgia's momentum. Instead, Moreno made the first man miss, got a key block from Haverkamp, and made it past the marker. He'd work some more magic later in the drive by reversing direction and scoring to put the Dawgs back out in front for good.
Tebow
Make no mistake – Tim Tebow is one hell of a football player. The running element of his game was limited, but he made big throws all night long and gave Florida the ability to drive and score in the blink of an eye. Any Georgia fan who tells you that they felt secure about a win until Florida's late fumble is lying or still drunk. As I saw all of the "Teabag Tebow" stuff throughout the weekend, I wondered when Georgia would have such a successful high-profile player that would draw that kind of reaction from opponents. Not even David Pollack was so universally hated. I admit that the media "Superman" build-up is behind much of the gag reaction to Tebow, but nobody goes to these lengths of scorn and ridicule for untalented or unsuccessful opponents. Percy Harvin isn't bad himself.
I remember back in 1992 when Florida players celebrated a close win by mocking Garrison Hearst's Heisman hopes. I have to admit it felt good to drive the stake into Tebow's Heisman campaign this year, but I fully expect him to be the front-runner entering next season. He's a very good player involved in a high percentage of plays in a very good offense. Endurance obviously will be the limiting factor. Hopefully Stafford and eventually Moreno can give him plenty of competition for postseason honors down the road.
Officiating
It's usually the role of the losing fan to mention some questionable calls (such as an illegal formation penalty called 20 yards downfield), but I will ask this: how the hell does Urban Meyer coach the game from the near hashmark and not receive the same "sideline warning" that was given to Georgia? I fully expected to see Meyer listed in the game's participation report.
But, hey – I enjoyed celebrating every Georgia touchdown all over again after the reviews came back.
Geniuses
Charlie Strong has been a thorn in Georgia's side for the better part of this decade, and most of us would love to see him earn a head coaching opportunity…far, far away from here. It's incredible how pedestrian a great coordinator can look when his talent wanes and how brilliant other coaches can look when a dynamic young tailback emerges and when passes are placed where they should be (and then caught). The same Florida defense that knocked heads off in recent years is now doing its best PAC 10 audition, and Strong is no less competent now than he was then. The grass-is-greener trap is easy to fall into. In some cases, it really is greener. Stacey Searels has the newcomer-laden Georgia offensive line to the point that they are no longer a liability or excuse for underperforming offense, and that says volumes about the job he's doing. But more often, coaches are a lazy target for both blame and credit.
Freshmen
Knowshon Moreno was the player of the game and the offensive player of the week in the SEC, but he wasn't the only newcomer to shine. Tight end Bruce Figgins had a tremendous day blocking and also caught a nice pass on a drag route for a first down. Linebacker Rennie Curran played early and often. He's only going to get better and should remain a starter. We also can't forget the linemen. Trinton Sturdivant, aside from providing the seminal moment of the touchdown celebration, also anchored the left side of the offensive line with Chris Davis, and the Dawgs were able to run to that side all night. Standout defensive end Derrick Harvey was hardly a factor.
It wasn't a perfect day for the youngsters. Figgins missed a key block that led to Florida's only sack. Rashad Jones was taught a valuable lesson about pass defense on Florida's first touchdown. Though not a freshman, sophomore Prince Miller was really picked on. It happened with guys like Thornton, Wansley, Oliver, and so on…there's just a certain amount of abuse most young cornerbacks have to take before they become stars. Miller is taking his lumps now, but he has the swagger and attitude to let each mistake roll off him, and he'll be a very valuable defender in the next two seasons.
Continuity
Every Georgia fan I encountered after the game (the coherent ones anyway) asked the same question. "Where was that against Tennessee?" It's a fair question, and I don't think there's a simple answer. Tennessee came off their bye week with as much intensity as Georgia showed following their own bye. The Dawgs weren't able to answer Tennessee's challenge, and the results were uglier.
I'm not surprised by inconsistency from such a young team. Sensing an absence of leadership to fill the intensity void, Richt created his own. It worked brilliantly for a game. Now it's the job of the team to sustain this attitude and make the most of the opportunities opened by the win. The last two wins over Florida were followed by losses to Auburn. Troy is no pushover either. Can the Dawgs somehow avoid slipping backwards?