Wednesday September 19, 2007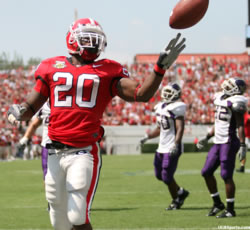 Brown scores against WCU
(Photo: UGASports.com)
I guess I was a little surprised to read that only 11 Bulldog running backs had at least 2,000 career yards before Thomas Brown became #12 last weekend. Congratulations to Brown – he's not far from becoming one of the top ten running backs in Georgia's history.
2,000 yards certainly isn't insignificant. It requires a certain amount of skill and longevity. Still, some college backs approach that figure in a single season. Spread over 3 or 4 seasons, it's less than 700 yards per season or 60 yards per game – hence my surprise at there only being 12 Bulldogs in this club. The Dawgs have had many tailbacks with good seasons but relatively few with complete and consistent careers. One also has to deal with injuries, sharing time with other backs, and the fact that a four or even three-year starter at tailback isn't common. Herschel Walker, Garrison Hearst, Lars Tate, Rodney Hampton, and Kevin McLee are the only Bulldog tailbacks with over 2,300 career rushing yards. Some other recent notables:
Robert Edwards: 1,955 career yards (some sources have him at 2,033 yards)
Musa Smith: 2,202 career yards
Jasper Sanks: 1,651 career yards
So while 2,000 yards might not seem impressive on one hand, Brown's longevity has placed him right up there among the most productive backs Georgia has had in recent years. With just 40 more yards, he will pass Bulldogs like Tim Worley and "Gliding" Glynn Harrison to move into ninth place behind Musa Smith on Georgia's career rushing list.
It should also be noted that Kregg Lumpkin isn't far from becoming #13. He entered the season with 1,617 yards and needs about 380 over the rest of this season. 380 yards doesn't sound like a lot, but considering Lumpkin's current injury, the rise of Knowshon Moreno, and Thomas Brown getting plenty of carries, it's not a sure thing.
Do you think Lumpkin will get there? Georgia only had two tailbacks from 1993-2006 break or approach the 2,000 yard career total, and now they might have two do it in 2007.