Thursday August 30, 2007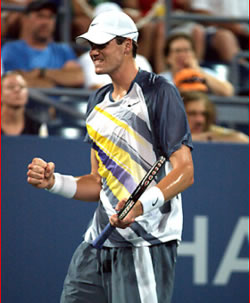 Good job, John – now about the yellow…
(Photo: USOpen.org)
This weekend's football season opener is an obvious reminder of what drives the Bulldog identity, but the US Open tennis tournament is showing us just how transcendent that identity is.
John Isner, the Bulldog tennis star I've mentioned a time or three here, is already making an impact on the professional tour. Earlier in the summer he advanced to the finals of one of his first professional tournaments. Now under the spotlight of the US Open, he's continuing that success, winning over the crowd, and bringing the sounds of Athens to New York City.
Last night, in front of a partisan crowd, Isner recorded a straight-set second round win over South African Rik de Voest to advance to the round of 32. That's the good news. The bad news is that Isner's next opponent is Roger Federer, currently the most dominant men's tennis player in the world. Isner will take his imposing serve and a shot of confidence into the match. "I'm going to believe," Isner said. "I'm not saying I'm going to win, but I'm going to believe."
Win or lose this weekend against Federer, Isner is already turning heads. It might be too soon to annoit him the next great hope of American tennis against the European juggernauts like Federer and Nadal, but Isner's stock is on the rise. Easily likeable and fun to watch, he is a fresh face on the scene with a growing and distinctive cheering section. The US Open is already known as a place where tennis lets its hair down, but the barking for Isner is noticed even against that backdrop. His school ties are getting as much press as his serve:
He's a Georgia Bulldog all the way, backed by barks each time he plays. A few months ago, Isner finished his senior year by leading Georgia to the NCAA team title. He proudly wears his school hat, the one with the giant G, every chance he gets.
With Isner's match of a lifetime against Federer set for Saturday, it's likely that most Bulldog fans will have Athens and football on their minds. But in Flushing Meadows, Isner and a small group of red-clad barking fools will be hunkered down in their own battle, and we congratulate them and wish them all the best. A great career is just getting started.