Monday August 27, 2007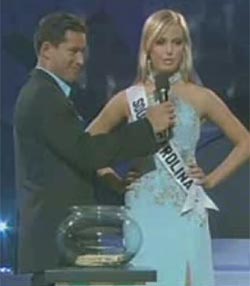 We ask the tough questions – without math.
South Carolina starting quarterback Blake Mitchell was suspended for this weekend's season opener, and that suspension has been upheld after an appeal. Mitchell's suspension was the result of missed classes over the summer. Now the temptation to blow off a few classes, especially during the summer, can be too much for any of us to take. It takes a special kind of person to understand those temptations and relate them to larger societal issues around the globe.
We turn to correspondent Lauren Caitlin Upton, Miss Teen South Carolina, for her unique perspective as a young woman all too familiar with competitive pressures and the spotlight. Lauren, can average Americans possibly comprehend the internal struggle of the high-profile student-athlete as he attempts to fulfill his academic obligations and avoid the trappings of college life and summertime in the South?
I personally believe that U.S. Americans are unable to do so because, uh, some people out there in our nation don't have maps, and, uh, I believe that our education like such as in South Africa and, uh, the Iraq everywhere like, such as and I believe that they should, our education over here in the U.S. should help the U.S., er, should help South Africa and should help the Iraq and the Asian countries, so we will be able to build up our future for our children.
Well put, Lauren. Next up: Miss Upton's thoughts on North Korea and Senator Blutarsky's 10 questions for the 2007 Georgia season. In a just world, she'd be added to the College Gameday crew this season. It would be worth it if only for the point-counterpoint with Lou Holtz.