Sunday August 26, 2007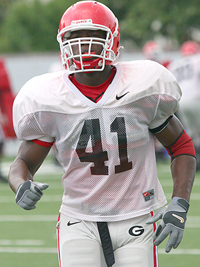 Roderick Battle (photo: UGASports.com)
Sophomore defensive end Roderick Battle was asked an interesting question last week by UGASports.com. More experienced players are expected to bring the younger players along, but they're still competing for playing time. Battle is expected to be a starting defensive end this season, and there are several players pushing him for that starting job. He was asked if he ever felt that he was "giving away your tricks of the trade" and putting his own chances at a disadvantage by helping a younger player. His response was great:
You might think that there would be, but I would not say so. Over the summer, we all tried to get each other out here to do extra work. In the end, it is not about me, and I would rather this team win without me than lose with me. That's how I feel.
Meanwhile, the adjusted weekend schedule due to Friday's storms meant that cornerback Ramarcus Brown would have to miss a family wedding. He might have been allowed to attend, but he didn't even ask.
"He did not ask permission to get out of it," said Richt. "He said that his family understood."
Those of you with familiy members inconsiderate enough to schedule a wedding during football season would do well to follow Brown's example.