Friday August 17, 2007
Picture Day descends on Athens tomorrow. Hundreds of parents will make their families suffer in the blistering heat for a chance at getting a picture of their kid with Uga. Fans with great tact will blow past reserves and other Georgia teams to hobnob with a handful of football players. The lines for Matthew Stafford, Uga, and Mark Richt started forming in June. To top it off, message board psychos will attempt to evaluate this year's team based on how someone looks. It's really great family fun.
Here are some of the particulars: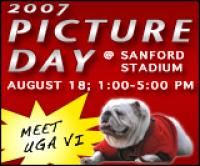 Saturday April 17th at Sanford Stadium

The Georgia football players and coaches will be on hand for photographs and autographs from 3-5 p.m. Uga VI will be available from 1-3 p.m. inside Sanford Stadium on the 200 Level near Section 213. Interactive events, concessions and merchandise sales will take place from 1-5 p.m. through the 100 level concourse of Sanford Stadium.

Fans will be able to enter Picture Day through Gate 6 located off East Campus Road and Gate 2 located on Sanford Drive across from the UGA Bookstore and Tate Student Center. Parking is available to the general public in the following campus lots: any lots along East Campus Road, Psychology-Journalism, Clarke Howell, Legion Field and Tate Center lots and the North Campus and Hull Street parking decks. Handicapped parking will be available in the Tate Center lots.

Fans may bring in just one item to be signed, and Picture Day event staff will enforce this number at the entrances.

The Georgia offensive unit and Coach Mark Richt will be located throughout the North side concourse of Sanford Stadium between Sections 109-101 while the defense will be located on the Gate 6 Plaza between Sections 125-121.

Other Georgia sports teams will be located between Sections 119-113 and the fan interactives, concessions and merchandise will be located throughout the event. The UGA Cheerleaders, National Champion Gym Dogs, Baseball, Track & Field, Softball, Women's Basketball, Equestrian, Women's Golf, Swimming & Diving, Soccer, Volleyball teams will also be in attendance.

Fans can pick up their tickets to reserve their place in line for a photograph with Uga VI beginning at 9:00am at the East End Ticket Windows located off East Campus Road. The first 120 groups in line will receive a ticket and be guaranteed a photo with Uga VI, with additional groups receiving standby tickets. The Athletic Association will attempt to accommodate as many standby fans as possible within the time Uga VI is available from 1-3pm.

Fans can pick up their tickets to reserve their place in line for the opportunity to meet Coach Richt beginning at 9:00 am at the East End Ticket Windows located off East Campus Road. The first 250 individual fans in line will receive a ticket and be guaranteed an opportunity to meet Coach Richt between 3:00-5:00 pm.

Fans' cooperation is appreciated in not bringing other pets or animals into the area with the Georgia Bulldog mascot, Uga VI. Also, all fans are encouraged to bring your own camera to take your group's photo with Uga VI. Groups with tickets to have their picture made with Uga VI, can enter through Gate 6 only beginning at 12:30pm. All other fans will be allowed to enter Sanford Stadium through Gates 2 or 6 beginning at 1:00pm.
Let's just hope this preseason event goes better than the one that an English soccer team had recently:
Norwich City's preparations for the new second division season have been hit by vomiting and diarrhoea following a social event for players, staff and their families.

Four players were among some 30 people taken ill following a barbecue at the club's training ground on Sunday. The club said in a statement it had contacted the local environmental health authorities about the incident.