Tuesday August 14, 2007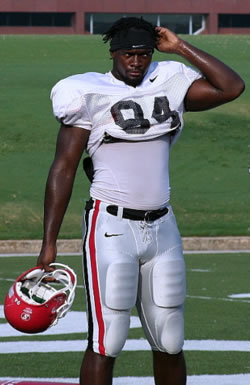 He definitely has the frame for the OL.
Photo: UGASports.com
Yes, it must be that bad.
Just a few days ago, Mark Richt was asked whether defensive linemen might be used to shore up an inexperienced offensive line dealing with a slew of minor injuries. Richt's reply?
Well…I just don't think it would help us. I don't think it would help us. They're not gonna know what to do and they're probably not gonna be too thrilled about it. The combination of those two things is not very good…I don't think we'll (do that). If we had some season-ending injuries, if every guy hurt now was for the season, we'd probably have to do something like that.
Today Chip Towers reports that 6'6″ redshirt freshman defensive end Kiante Tripp has started practicing with the offensive line. Since he signed in 2006, Tripp's huge frame has led many fans to wonder whether he would make a nice Chris Terry-like conversion to offensive tackle. UGASports.com even mentioned Tripp over the weekend as the most likely guy to make the switch if it became necessary.
Tripp was rated the ninth best offensive tackle in the country by Rivals.com as a two-way lineman at Westlake High School.
We'll wait for the evening post-practice news cycle to see if Richt or Tripp have comments on the move and whether it's a temporary measure. With the recent injuries to linemen, the Dawgs had been using a couple of walk-ons on the second team line. As Richt implied in his comment above, Tripp will likely be lost and would just be a warm body at this point. But with his frame and athleticism, Tripp might be a better option than a walk-on or true freshman even if he is new to the position.
When asked in March about the possibility of moving to offense, Tripp told UGASports.com, "if they want me to play it I will because I will do anything to help the team out." He's also a bright guy with a 1260 on the SAT, so that could also help speed the transition.