Monday August 13, 2007
The 2007 Bulldogs have a lot of questions to answer, but the offensive line and linebacker positions have been at the top of the list from the beginning. On the offensive line, the issues are experience and depth. At linebacker, the Dawgs are replacing all three starters and a ball-hawking playmaker in Tony Taylor. It's not a surprise that those two positions highlight the reports from Saturday's first scrimmage. Reading into a scrimmage this early is about as useful as paying attention to the scores of preseason NFL games. We dwell on the areas that get attention in the recaps and questions, but they don't always capture everything that went on in the scrimmage. So we'll avoid getting too picky at this stage and look at these two general areas of concern.
Offensive Line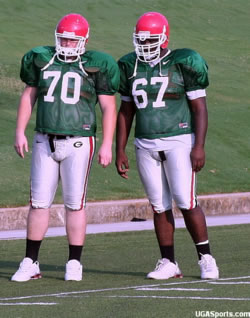 Injured linemen Haverkamp and Adams
take in Monday morning's practice
Photo: UGASports.com
Injuries were the story along the offensive line. Though no injuries seem to be long-term, they still come at a time when the unit is trying to build cohesiveness and familiarity. The lost practice time from even minor injuries can be frustrating. "There won't be any group of five working together this week, not all week, maybe as early as Wednesday, I don't know. I can't even predict," explained Coach Richt after the scrimmage. With all of that uncertainty up front, it's hard to expect the offense as a whole to run smoothly.
Starters Chester Adams and Scott Haverkamp are both sidelined with ankle injuries, and reserve Tanner Strickland joined them on the injury list. Chris Little has a hurt wrist, but he's out of shape and unlikely to play this year anyway. The result was a bit of chaos along the line. Freshman Clint Boling was forced to play with the first team at tackle. Coach Bobo's comment that "(Boling)'s all we've got" is hardly an endorsement of the true freshman, but but it's to Boling's credit that he has done well enough in such a short time to impress the coaches to move up to the first team as Adams recovers.
It was kind of under the radar that despite the OL woes Stafford was able to complete over 60% of his passes, Moreno was able to rush for 7+ YPC, and the offense was able to have some success in goal line situations. We focus on the critical and even tend to be alarmist about the line, but there were some good things happening.
Linebacker
Things are a bit different at linebacker. Injuries aren't the concern here. Personnel and positions are. The phrase of the weekend was "cross-training." It's a useful concept where players at similar positions (such as linebacker) swap positions to improve depth and versatility across the unit. Danny Verdun-Wheeler was a master of this training and was at one point considered the top backup for all three linebacker positions before he moved into a starting role during the 2006 season.
That's fine, but here's the thing: Brandon Miller already has experience not just practicing but starting at outside linebacker. Based on Miller's move to the interior this year, Coach Richt has said, "he's the key to our whole defense." With all that at stake, wouldn't the first objective be to get Miller as much work as possible at his new position? About a week ago, Richt called Miller "the key to our whole defense." Now we don't even know how the linebackers will line up. "By the time the second, third scrimmage rolls around, we'll know how to line them up," Richt said following Saturday's scrimmage. "I would say it's not etched in stone right now how we'll line up at linebacker."
That's not cross-training. That's still an audition. Cross-training is a luxury you have only after the starters are certain and competent in their primary roles. If we don't know how the linebackers will line up yet in the first place, worrying about cross-training at this point is very much cart-before-the-horse stuff.
Miscellaneous
With the departure of Paul Oliver, who made his NFL debut last night, the cornerback battle is an area of interest. Prince Miller is getting first-team work as Bryan Evans nurses a hamstring injury, and Thomas Flowers is giving Asher Allen all he wants at the other position. These are all talented guys, and the competition is very healthy.
The numbers don't quite add up. In the limited stats released from the scrimmage, the quarterbacks were credited with a combined 22 completions. Yet only 13 receptions were recorded. Henderson and Massaquoi didn't land a reception between them?