Monday August 13, 2007
You saw them all over the news: a destitute people barely able to go on from one day to the next, ravaged by one of the worst disasters to hit the area in recorded history, and wondering just when they'd begin to see a glimmer of hope at the end of their long nightmares.
But enough about the Mike Shula era.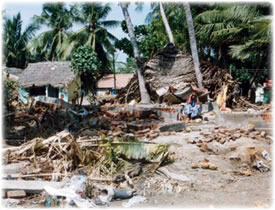 Surprisingly, tsunami aid has dried up in Tuscaloosa
Real estate investment money is flowing into Tuscaloosa, and it's because of tax breaks intended to help recovery in the wake of Hurricane Katrina. Though 200 miles from the coast, Tuscaloosa was included in the "GO Zone", an area designated along the Louisiana, Mississippi, and Alabama coasts offering special incentives for redevelopment of these areas most affected by Katrina. Most importantly, the GO Zone "also allows real estate investors who buy condos or other properties in the GO Zone to take accelerated depreciation on their purchases when they file their taxes."
What's the big deal about tax breaks on condos? If you've been in any major football town in the South lately, you've seen an explosion of condo development – mostly targeted at the wealthy alumni looking for a second home around the corner from the old alma mater. Athens itself has several, and the market is competitive enough to pull out big guns like Herschel Walker for endorsements. But the condos are also potential investments for real estate groups who can turn around and rent the units.
Since the tax break is not available to people who would buy the units for their own use, the condos are much more attractive to investors. For investors with large portfolios, the tax savings in Tuscaloosa could be used to offset higher taxes in other investments. As a result, the Tuscaloosa market is supporting ten such condo projects right now. Local experts estimate that the tax break is responsible for "10 percent of all recent condo sales in the city." With the breaks due to expire next year in Alabama, investors are getting into the markets while they still can.
Why was Tuscaloosa, several hundred miles inland, included in the recovery area?
Locals say Tuscaloosa was included in the GO Zone through the efforts of Republican Sen. Richard Shelby, who is from Tuscaloosa, graduated from Alabama and sits on the powerful Appropriations Committee. But Shelby aides said Tuscaloosa made the cut because it was classified as a disaster area by the government after Katrina, not because of the senator's influence.
Riiiiiight. Meanwhile, as Tuscaloosa gameday condo developers and investors put the horror of Katrina behind them in Sen. Shelby's hometown, the areas without football teams where redevelopment is most needed haven't quite seen the same impact.
State reports reviewed by the AP and interviews show that the most ballyhooed part of the GO Zone bill — $15 billion in tax-exempt bonds — has had relatively little effect so far.