Monday July 23, 2007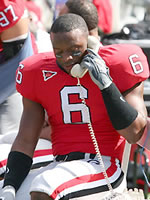 Will Lumpkin answer the call?
Photo: UGASports.com
With just a couple of weeks before the start of preseason practice, it's time to leave the offseason blog parlor games for a moment and focus back on the sport itself. We'll go position-by-position through the Georgia team, recap the current status of things, and then look ahead to some questions that need answers before the season begins. We'll start with the running backs.
When we last left the running backs: The "three-headed monster" took its lumps and was down a few heads by March. Danny Ware decided to try his luck in the NFL. Thomas Brown's 2006 season ended abruptly with a knee injury against Vanderbilt. Kregg Lumpkin went into spring as the only returning tailback with significant game experience. At fullback, there was no doubt about Brannan Southerland's firm grasp on the position.
What's happened since: Lumpkin held on to the starting role during spring, but one story from spring practice was the emergence of redshirt freshman Knowshon Moreno. Moreno poured kerosene on the fire at the G-Day game with some impressive runs. Though many expected (or hoped) that Thomas Brown would use a redshirt season to completely recover from his knee injury, Brown has been cleared and will try to play in 2007. As he works his way back into the mix, Brown will have to compete with Lumpkin as well as some younger talent for carries. Redshirt freshmen fullbacks Shaun Chapas and Fred Munzenmaier had good springs, but neither established himself as a clear backup to Southerland. Last year's utility fullback, Tripp Taylor, moved to the defensive line.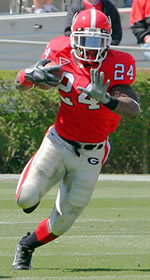 Moreno sure looks ready.
Photo: UGASports.com
What to look for in preseason practice: The Dawgs have another potential logjam at tailback. Lumpkin is the incumbent starter, but he'll be pushed by the return of Brown and two newcomers. Moreno will also earn carries. The wildcard will be the arrival of true freshman phenom Caleb King. King doesn't intend to redshirt, but few freshman really do until reality sets in sometime in August. But King has been mentioned as a possible first-year contributor throughout the recruiting process, and he'll join the team completely recovered from a leg injury that ended his high school career last fall. Even if King doesn't rocket to the top of the tailback depth chart right away, he might be versatile enough to see time as a receiver out of the backfield (think Tyson Browning – only better and with hopefully more plays than just the screen pass).
In a much less-hyped area, will Chapas or Munzenmaier make a move toward the backup fullback position? The days of capable but walk-on fullbacks like Wall and Thomas are gone. Georgia has not one, not two, but three scholarship fullbacks. Will the position take a slightly higher profile? There are already the inevitable but premature calls to move one of the freshmen to linebacker.
Concerns? Optimism? Challenges? I've said before that the appearance of a glut of tailbacks isn't typically a good thing. You want a standout, and Georgia still doesn't have one. You've heard this every summer since 2003, but this year's crop of tailbacks seems even more talented than the last, so will a clear starter emerge?
Few running games can excel without quality blocking, and Georgia's new offensive line coach and inexperienced line will have a big say in the production from the Georgia running game. With a depth chart to sort out and some creative blocking challenges, how will the running game be used in offensive coordinator Mike Bobo's 2007 offense?