Thursday July 12, 2007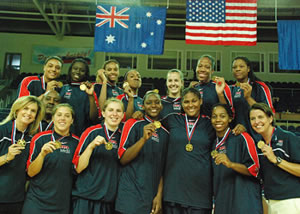 World Champs! (Houts is bottom row, second from left)
Georgia point guard and reigning SEC Freshman of the Year Ashley Houts was the only rising sophomore named to the USA U21 national team this summer. That team just won the 2007 FIBA U21 World Championship, and Houts was an important contributor off the bench for the national team. Though she was just a reserve, she quickly found a role as a spark that could pick the team up and get them through some rough patches. Teammates credited her for turning around a sluggish performance against Hungary. Stanford All-American Candace Wiggins said,
Ashley's (Houts) shot and her defense in general gave us a lot of momentum going into the second half. We were able to take that energy that we ended the first half with and build on it in the second half. I think that was the biggest change of the game. Our defense intensified and you could just feel it.
Yep, that's the player we came to love last year, and it sounds like someone ready to step into a leadership position when she returns to Georgia.
Houts kept a journal during the tournament:
We also learned this week that senior forward Tasha Humphrey was selected as one of 12 players to represent the United States in the Pan American games held later this month in Rio. Humphrey's participation is very significant. Not only is it a great honor and recognition of Humphrey as an outstanding player, it's also one of the first opportunities she's had in several years to really work on her game. Tasha has spent the past couple of summers doing more rehabilitation than anything else. While her game has remained strong thanks to natural ability and the work put in during the season, missing that offseason work has slowed down her own development.
With the various injuries Humphrey has battled over her career, she's often had to spend the first part of the season just getting back into playing condition. That was the case last year, and the situation was exacerbated by the suspension which kept her out of the first five games. By the time Humphrey had started to round into top form, we were into the SEC season. Things could be different this year. If she's staying injury-free and playing against top competition at the Pan Am games, she'll be that much better and ready to go out of the gate in November. With all eyes on her as a senior, a summer like this is just what the doctor ordered.