Friday July 6, 2007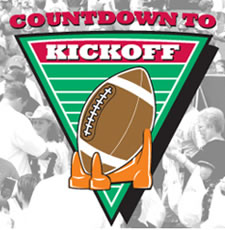 UGA will host the second annual Countdown to Kickoff tomorrow (Saturday July 7th) from 3-6 p.m. at the Woodruff Practice Fields. What started out as a little idea by Matt and Jon Stinchcomb and a few friends brought out over 1,500 fans last year and raised over $100,000 for charities. This year's event should be even bigger. Over 50 former Georgia football players (several of which are in the NFL) will be on hand. Current players will be there too.
Tickets are $30 each. A "Family Pack" costs $100, which includes four tickets, four meals from Chick-fil-A and a special football for getting autographs. Also, free pizza and soft drinks will be available.
Countdown to Kickoff will benefit Children's Healthcare of Atlanta and the Georgia Transplant Foundation, as well as the Children's Tumor Foundation and the University of Georgia College of Education.
The weekend has expanded to include a full host of related events including a related golf tournament tomorrow morning and an auction this evening at Foundry Park Inn at 7 p.m. Check out some of these items up for auction tonight:
Dawg for a Day: Unbelievable behind-the-scenes access, do everything the team does on gameday (except play!), 4 people, ride bus with team to Sanford Stadium, dawgwalk with the team, pregame locker room access, and sideline access.
Press Pass: 2 people in Press Box for Oklahoma State game, (ESPN crew, Larry Munson) eat pre-game press meal, watch game from Press Box (no tickets needed), attend Coach Richt's post game press conference
Legacy Year: 2 people spend 1/4 of game in broadcast booth with Larry Munson and Scott Howard, headphones on to listen to him call the game, and photos
Pre-game flyover: Thrill ride for any Dawg Fan, 2 people fly in open cockpit Red Baron Squadron bi-planes when they do their pre-game fly-over of the stadium on gameday.
Red Coats: Climb the Ladder to Conduct the Red Coat marching band when they perform the traditional spelling of G-E-O-R-G-I-A at halftime, scoreboard big screen shot of you doing it, and an authentic Ken Modak print to commemorate the occasion
UGA/NFL experience: Fly to New Orleans for the Saints/Falcons game featuring UGA greats DJ Shockley, Jon Stinchcomb, Charles Grant, stay at the 5 star Royal Sonesta Hotel, champagne brunch, dinners at finest New Orleans eateries, airfare and game tickets included (2 people)
Air Dawg: Two round trip tickets on your own Wings Air Executive Charter to Destin, Charleston, St. Simons, Asheville, Nashville, Knoxville – fly to go see the Dawgs play Vandy, Tennessee, or the Gators or visit the beach without the drive or the hassle of Hartsfield (www.flywingsair.com)
Homecoming: Gameday Penthouse w/view of stadium, entertain and enjoy homecoming weekend with fellow Dawgs in penthouse of Gameday Condominiums, includes tailgate party and overnight stay.
Pampered Pup: View the season opener ESPN Game in style with 4 luxury suite tickets to the Oklahoma State game, eat and drink at your leisure, keep from sweating like a dawg in the air conditioned comfort of a Sanford Stadium sky suite (on home bench side of stadium).
Queen of Southern Cooking: Visit Savannah and Miss Paula Deen, star of Paula's Party on the Food Network, and highest authority of all things Southern and fried, a 2 to 3 day "Paulathon", 2 or 4 seats to taping of Paula's show, Lunch or dinner at Lady and Sons restaurant, Lunch or dinner at Uncle Bubba's (Paula and her brother).
The Outdoorsman: Experience the old southern tradition of wing shooting at Ashburn Hills Plantation, 4 hunters stay overnight at beautiful bed and breakfast in Thomasville GA, step back in time and enjoy a full day of world-class quail hunting from horseback and mule drawn carriage (www.ashburnhill.com)