Thursday June 28, 2007
First, a bit of unsolicited travel advice:
Visit Nova Scotia. What an incredible place. You can just drive around the corner and come out at a spot like this: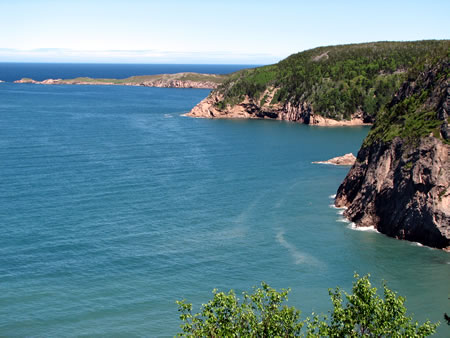 Now, on to some of the Dawg news that caught my eye after a quick scan:
Munson cutting back
Count me among those who feel that Larry has earned the right to call as few or as many games, quarters, or plays as he wishes.
At the same time, we have to consider the role of the broadcast in the first place: telling the story of the game. John Kaltefleiter of the ABH took a little heat last week when he suggested that Munson was slipping badly in this area, but is that really news to anyone? "We've got a guy in the corner" has become the default call for any play now. But Munson isn't there for that anymore…his presence is almost ceremonial like British royalty, and the fact that the broadcast team can so easily adapt to Munson's reduced schedule this year is evidence of that. No one expects Roger Clemens to go 9 innings anymore, but it's still a special thing to see him on the mound. The rest of the broadcast team is capable of picking up the slack.
To me, the question isn't who replaces Larry. It's who replaces Scott Howard when Howard moves into the lead role.
Mark Richt's Summer Vacation
College football coaches don't have much down time, but this time of year is about as close as it comes to R&R before the staff begins intense preseason preparations in a few weeks. Coach Richt and his family spent some of their summer recently checking up on a mission they support in Honduras. He kept a journal for UGASports.com, and they've put it up as free content. Read here:
Besides the virtue of the mission work itself, I find it admirable even in a "safe" situation like this that Coach Richt would engage the online community in such depth. He also took questions directly from the DawgVent. It goes with the understanding that these same people will be cursing him again after the next loss, so it's very gracious of him to take the time to put these entries together and share this very important work.
Andy Landers' June
First, thoughts and prayers are with the Landers family as Drew recovers from an automobile accident earlier this week. Unfortunately, the accident cost the life of a North Oconee coach, and we can't begin to imagine the toll that has taken on that community and his family. The relatively good news from this tragedy is that the others in the car survived, and Drew seems poised to recover. It's still touch-and-go for a while though, and Andy Landers can't help but feel helpless as he watches and waits down at Grady.
It's been a tumultuous month for Landers. The highlight clearly was his induction into the Women's Basketball Hall of Fame in Knoxville. It was fitting that a large number of former players and friends were on hand to help him celebrate, because as he is so quick to point out they played a large role in building the program to this point. But make no mistake that it takes a special person to build and sustain an environment where such great players want to come and can excel. If you've ever heard him speak, he certainly doesn't come across as shy, but he is modest when it comes to his own accomplishments. Had he blown his own horn or pulled some strings, he surely would have made the Hall of Fame much sooner.
He's also completed a pretty significant shakeup of the staff. Cameron Newbauer filled the final assistant coaching vacancy. On the surface, the hire raises some eyebrows. He has very limited coaching experience, and all of his work to date is on the men's side. He's expected to help in recruiting. Cameron will no doubt draw comparisons to the chance that Landers took on Michael Shafer. With the changes to the staff complete, the three assistants are now much younger but not necessarily less experienced. Kim Hairston seems like a nice addition. La'Keshia Frett, recently 32, is now the senior assistant. Hairston and Newbauer both graduated college in or after 2000. Will the young staff be the injection of new blood that gives both team performance and recruiting a boost, or will they be an ankle weight to the program as they come up to speed?