Tuesday June 5, 2007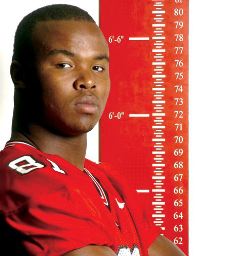 6'8″ with a heart to match
While it's usually the negative that makes headlines (see Odell Thurman's latest), several Georgia and NFL players are getting together for a very worthy project organized by Leonard Pope.
On March 1st, a tornado broadsided Americus and Sumter Regional Hospital . The hospital is damaged nearly to the point of requiring complete replacement. Pope, an Americus native, has pulled several Georgia and NFL friends together for the Leonard Pope's All-Star Weekend to Benefit Sumter Regional Hospital and the Community on the weekend of June 15-16. Among those scheduled to participate are Anquan Boldin, Charles Grant, D.J. Shockley, Randy McMichael, and Danny Ware. Others, including Thomas Davis and Ronnie Brown, have recently joined the list, and there might still be others.
On Friday (tentatively 8 a.m-4 p.m.), there will be a charity golf tournament at Southwestern Golf Links where golfers will get a chance to golf with the aforementioned celebrities in a four-man scramble. The cost will be $100 per person ($400 per team) and there will be prizes, lunch and more.

There will be a Black Tie Charity Dinner at the Pope Center on the campus of South Georgia Technical College on Friday ay 7 p.m. Tickets for this event will be $50 per person ($500 per table). The aforementioned players will be in attendance, along with a surprise Georgia celebrity as one of the main speakers for the event. There will be food, entertainment and a silent auction with many signed memorabilia from the players and other sports teams and celebrities.

On Saturday at 2 p.m., there will be a charity basketball game that will pit the NFL players and their friends against local Americus-Sumter and Southland legends. Local children will also have a chance to sign up for Leonard Pope's 2008 Football Camp. Tickets will be $5 for adults and $2 for children. Children under the age of 5 get in free.
Related Links: