Wednesday May 30, 2007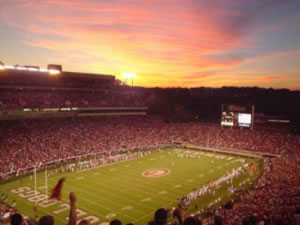 According to Marc Weiszer of the Banner-Herald, ESPN2 will broadcast Georgia's first two 2007 football games against Oklahoma State and South Carolina.
The September 1st Oklahoma State game will start at 6:45.
The September 8th South Carolina game will start at 5:45.
The later starts in early September will be welcomed by tailgaters after a 2006 season where only one home game started after 3:30 and five home games started no later than 1:00. Improved campus traffic plans will get immediate tests from these late-afternoon kickoffs.
Georgia has had two high-profile season openers start in the late afternoon or evening recently. In 2005, the Boise State game kicked off at 5:30, and the Dawgs rolled to a win. Back in 2002, Georgia won a close game over Clemson that started at 7:45.