Thursday May 17, 2007
(First, do yourself a favor and read this hoops recruiting post over at GeorgiaSportsBlog.)
While we were busy with the postmortem of the 2006-2007 basketball season, I eventually settled on a shooting guard as the biggest-need-not-yet-met. Levi Stukes is gone and while there were some capable shooters on the roster, no one had really set my hair on fire as a consistent outside weapon. Make no mistake, it isn't the only need for improvement on the team, so it was interesting to see the different directions that spring recruiting took. There was the small forward D.J. Kennedy who, while undersized for a forward at 6'5″, was considered "versatile" enough to play on the wing. Kennedy signed with St. John's. Then there was Steffphon Pettigrew, another 6'5″ small forward who was named Kentucky's Mr. Basketball and led the state in scoring. Despite the Mr. Basketball honor, Pettigrew never really drew major college offers. Georgia showed some interest but didn't offer. Pettigrew chose to remain in-state and sign with Western Kentucky.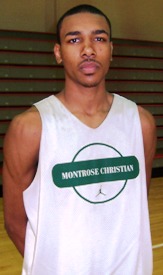 Troy Brewer
Photo: Rivals.com
That brings us to Troy Brewer. The name appeared Tuesday on the UGASports.com hoops message board, and news of his signing broke on Wednesday. Brewer is yet another 6'5″ wing, but he seems to have a stronger outside shot than some of the other players the Dawgs were considering.
What is really impressive about Brewer is the pedigree. He didn't start until his senior season at Gaithersburg (MD) Montrose Christian, and that was because he played behind someone named Kevin Durant. As a first-year starter, he recorded 15.1 points and 5.3 rebounds per game. Montrose Christian is a national top 25 program and plays against the likes of Oak Hill. Big-time college basketball should not rattle him in the least. Coach Felton agrees. "Troy is simply accustomed to winning," said Felton. "He is a product of one of the premier high school programs in the country at Montrose Christian. Coach Stu Vetter has turned out Top 25 teams, as well as a long list of high-level players, at each of his schools over the past 20 years. We feel like Troy is another member of that list."
Because Brewer didn't start until his senior year, he didn't appear on the radar until very late. He started to receive interest, though not offers, from schools like Maryland, Virginia Tech, and a few West Coast schools. He is fully qualified academically.
Troy is already sizing up his chances to play right away in Athens. ""Looking at the roster I think I fit in well because at my position the two-guard a lot of their guys are 6'2″ or 6'3″ and I am at 6'5″ to 6'6″ and my extra height and length is what they need in the backcourt," he told UGASports.com ($). Coach Felton added, "He is a terrific guard with good size and length. Shooting the basketball is considered his specialty." That size is definitely a plus, but in the end the competition for playing time will come down to his ability to shoot consistently and of course how well he does the other things on the court.
Brewer is the fifth and final signee for the Georgia basketball 2007-2008 freshman class. He will join forwards Chris Barnes, Jeremy Jacob, and Jeremy Price as well as point guard Zac Swansey. He plans to arrive in Athens in July.