Monday May 14, 2007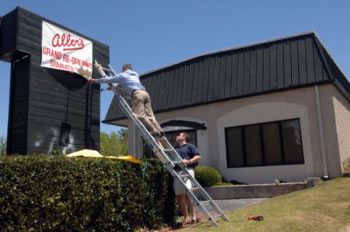 Photo: Athens Banner-Herald
Most any UGA alum with a bit of age on them has an Allen's story. Whether we were a regular for Wednesday night with the Normaltown Flyers or just stopped in for a burger after a football game, many of us enjoyed that unique experience. It was right down the street for much of my college career. The notorious Prince Avenue dive closed at the end of 2003 and was demolished.
UGA alum Mark Hammond is among those trying to bring Allen's back now at a location near Oglethorpe and Hawthorne (near the Athens "Y"). Their story is covered today in the Banner-Herald.
The new location seems to be a bit questionable. Though the original wasn't downtown, it was still very much a neighborhood kind of place there in Normaltown – an area of Athens with a very distinct identity and sense of community. I have no doubt that they'll do what they can to make it seem familiar, but a new location in an out-of-the-way strip mall is a bit of a stretch. It sounds as if they're banking on nostalgia to draw people back, and that's a tough thing to recapture.
The relationship Allen's had with Foxz reminds me of another away-from-downtown pair of Athens restaurants that have fallen on hard times. Steverino's and Sons of Italy on Lumpkin used to pack them in during the 1990s. Impossible parking and all, everyone spent time there. Now Son's has moved to the Spot of Death near Milledge and the Athens Perimeter where seemingly dozens of restaurants have failed. Are they even open yet? Then Steverino's closed and eventually re-opened with new owners. But the two individually are much less than the whole, and seeing that one-time hotspot wither has been as bad as seeing Allen's go.
I hope the new Allen's succeeds and is true to the concept. After all, Allen's is the place where I met my fiancée during its last month, and I hated to see it close. We'll at least stop by and give the new location a try.