Tuesday May 8, 2007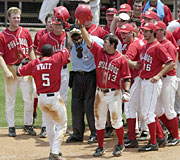 Wyatt gets it done in the
2004 Super Regional
Photo: AP
With two losses to #1 Vandy last weekend and series left against postseason-bound Mississippi State and South Carolina, Georgia's hopes for a late-season surge into the SEC Tournament are about shot. They are assured of a sub-.500 conference record.
So for me, the season comes down to tomorrow night's game in Athens against Tech. The two teams have split the season series so far. If the Dawgs aren't heading for the postseason, let's salvage what we can and claim another season series from the enemy.
I mean it…treat the game like a super-regional. Throw Dodson and/or Moreau and whatever it takes to win the game. If that means weakening the team for the Mississippi State series, so be it. Would I trade a slim chance at an early exit in Hoover for the season series with Tech? Damn right.
If you could script it, famous Tech-slayer Jonathan Wyatt will make a big play in this game.
Then again, all this is predicated on Tech actually making the trip this time.