Monday April 9, 2007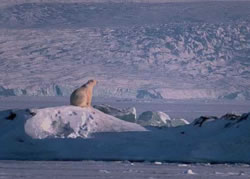 A more hospitable location
for next year's game.
Fans can be funny. Georgia's offense finally showed some punch, and of course everyone is now fretting about the defense. Had the defense played better and stuffed the offense, we'd be back to trashing the receivers and calling for an offensive coordinator (oh…wait.). If anything, G-Day was entertaining for once this year. In 2006, G-Day was all but over after Stafford's first pass. If it's just a spring exhibition for the fans, it might as well be fun, and at least this year's game had action for the 21,000+ fans who braved the cold.
The performance of the offense is a good thing. Though the playcalling took a few more liberties in the spring game, there was still a good variety of formations and calls. Execution helps – there were few, if any, bad drops. Tailbacks ran well. The new offensive line, a universal source of concern this spring, held its own.
At the risk of contradicting myself, the defense didn't look terribly impressive. It was a bad performance. Kelin Johnson said, "It was just horrible, man, horrible.", and he should know – many of the more successful plays of the day were across the middle. Coach Martinez didn't use the excuse of a spring scrimmage to slack off – he was in faces early on about the lackluster play. "We just gave up too many big plays," Martinez explained. "It's been happening a lot in the spring. It's happened way too often. We just have to get it corrected. We just have to reshuffle our lineup and see if we can get it straightened up."
The Dawgs are replacing six of seven starters along the defensive front seven, and it showed. There were enough bright spots on defense among the first and second units to show that potential answers are on the team, but the questions still remain. Based on Martinez's statement, we'll probably see a lot of experimenting with different solutions before the season. Is it time to panic and abandon the season? Of course not. That's what the next four and a half months are about. If improvement stopped after spring, we'd never be very good.
If there was a "story" to G-Day other than the big plays, it was the recruiting class of 2006. Rashad Jones made an immediate impact as a ball-hawking safety. Knowshon Moreno showed a great burst and power at tailback. Tony Wilson made some noise at receiver. Members of that class who did not redshirt, like Matt Stafford and Kris Durham, also had impressive afternoons. Without reading too much into a single spring scrimmage, here are some quick hitters from the game:
Damn was it cold. Not chilly. Cold. The 2003 Tech game came to mind.
Tripp Chandler seems ready to assume the starting tight end spot. He made a couple of tough catches, holding onto one as he got hit hard right after the reception, and he drug several defenders on a long completion across the middle.
Jason Johnson continues to hold the Johnny Brown Award for the best G-Day performance from a guy least likely to see the field during the season. Last year, Johnson had nearly 100 yards on the ground at G-Day but didn't get a single carry in 2006. This year Johnson had 48 rushing yards at G-Day, only five fewer than starter Kregg Lumpkin. Johnson also added a touchdown pass to his stat sheet this year, setting a whole new standard for this honor.
The offense did a lot of its damage on big plays, and that can distort some good defensive plays and shaky moments on offense. Stafford had some great passes but was also a relatively inefficient 6-of-12. He struggled throwing swing passes, and there were some obvious miscommunications with receivers. It's spring. Barnes fumbled, Massaquoi ran into his blockers on an end-around…there's still plenty to do on that side of the ball as well.
Brandon Miller's move to middle linebacker continues to look good. He led the Black team with six tackles.
It was clear why Georgia recruited a punter in the 2007 class. Butler might be called upon early. Coutu had a nice punt, but I'm sure we'd all prefer he focus on placekicking if possible. Mimbs was inconsistent.
An interesting diversity at receiver is emerging. Sean Bailey is back and made a superb catch along the sideline. Massaquoi remains steady. Durham is going to be a "glue" guy on this team for several years. Henderson got open deep again and was the spring MVP. Tony Wilson had an impressive debut. We didn't even see guys like Bryant or Harris or Gartrell. Don't forget Moore either.
As always, the best news is that no long-term injuries came out of the game. Cornerback Bryan Evans hurt his hand on Chandler's long reception, but that kind of thing won't affect his 2007 season.