Monday April 9, 2007
1. A quarterback controversy. Maybe it had to happen this way. The four – or more truthfully – three-man battle for the quarterback position dominated headlines for the first half of the season. The situation was a mess from the start. The injury to Tereshinski at South Carolina threw a wrench into any plans of a smooth progression, and from the Colorado game clear through to the Mississippi State game in late October, the team could get no traction as every week brought a new development and experiment at the quarterback position. Even as Stafford assumed control, he struggled with turnovers and decisions.
That seems like such a long time ago, and Stafford seems like such an obvious choice now. Many thought it was only slightly less obvious of a choice last summer. Was it really that tough a decision and did it have to drag on well into October, or was this something that the coaching staff could have handled better? We spun the situation by convincing ourselves that it was a positive to have four guys capable enough to make it a difficult decision, but you don't notice too many people complaining about the lack of a quarterback competition this season.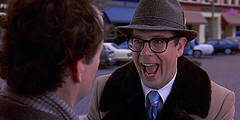 2. The post-halftime turnover. It was our own Groundhog Day. Honestly, all we needed was Ned Ryerson showing up on the video screen at halftime every week. It usually went like this: Georgia would receive the second half kickoff, often with the lead. They would get stuffed on the kickoff return. There would be a spectacular turnover. The opponent would score on a very short field and would completely change the momentum of the game. Each game had a nice twist on the theme.
While most remember the turnovers that resulted in losses, the Mississippi State game stands out to me as the season's worst meltdown. Georgia led 21-7 at halftime, but that soon evaporated to a four-point lead after consecutive turnovers. Georgia missed the extra point after their only touchdown of the second half (see #4 below). From turnovers to huge pass plays on MSU's final drive, Georgia seemed to do everything they could to give the visitors a chance to win the game. As bad as losses to Vanderbilt and Kentucky were, only Charles Johnson's heroics at the end prevented a loss from which the program might not have recovered.
The story wasn't just turnovers but turnovers timed so perfectly as to do the most possible damage. While the Dawgs cut down quantitatively on turnovers during their impressive three-game run at the end of the season, they also did a better job of stopping the bleeding after the turnovers they did commit.
3. Hyping the three-headed monster. Every time I talk about the running backs, I have to make it clear that I don't think they are bad. I enjoy watching Lumpkin and Brown. They have made huge plays for us. But for two seasons now, we've been touting this "three-headed monster" tailback group while the actual production has been just so-so. I don't put that all on the backs; it can be argued that blocking and/or scheme has a bit to do with it too. The buzz is starting all over again with freshman Knowshon Moreno after G-Day. I think we have some talented backs, but it will take a much stronger and consistent effort plus a few coaching adjustments before the Georgia running game is scary good enough to be called any kind of monster.
4. An injured placekicker. Coach Richt has remarked recently how close Georgia was to being 11-2 and also how close they were to having a losing record. If you think back to the great 2002 season, at least five of those wins were true nailbiters. That's life in the SEC. Even the national champions had their share of close shaves last year. The injury to Brandon Coutu was just one of several kicks in the pants during the middle of the 2006 season, but the impact of his loss was immediate. I've heard many people say that games like Vanderbilt or Kentucky shouldn't come down to a field goal in the first place, but again, that's ignoring the realities of the SEC. The injury didn't just affect placekicking. By becoming involved in placekicking duties, it seemed as if Gordon Ely-Kelso's punting suffered in his senior season.
5. Another loss to Florida. Seriously. End it.