Monday March 26, 2007
Following last night's 78-65 season-ending loss to Purdue, Andy Landers said something that didn't just apply to the Purdue game but could also serve as an epitaph for the season. "When we didn't score, it seemed to take some of the life or mission out of us defensively," he said, explaining how Georgia's defensive intensity waned after a strong start. The Lady Dogs had another 25+ win season and another trip to the Final Four, but in almost all of their losses they faced inconsistency on offense and a sub-par defensive effort that seemed coupled to those problems on offense.
This feast-or-famine storyline played out in dramatic fashion during the postseason. It began in the SEC Tournament where Georgia routed Kentucky in record-setting fashion. They were on the other side of the rout the following night against Vanderbilt, failing to score 20 points in the first half. Another sluggish effort followed in the NCAA opening round when they struggled to score and got a scare from an overmatched Belmont team. Thing swung back around the other way for the second round game against Iowa State, and neither offense nor defense was a problem.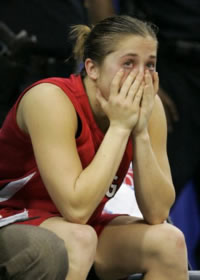 Loss hurts Houts, but she's
got a bright future. (Photo: AP)
Inconsistent teams rarely advance far in the postseason. Georgia was good enough to advance. They've recorded wins over three Elite Eight teams this season. Their inconsistency buried them last night. Purdue's consistent senior sharpshooter Katie Gearlds went for 30 points. Georgia's starting seniors combined for ten points and two field goals.
Tasha Humphrey and Angel Robinson were effective inside. Humphrey scored 20 points, but it was on the other end where she ran into familiar problems. Foul trouble put her on the bench for key stretches in both halves. With her watching from the pine and Chambers cold, Georgia's scoring fell to freshmen and role players. They were valiant and kept up as much as they could, but they weren't going to keep up with Gearlds and Wisdom-Hilton.
Last season ended for the Lady Dogs with a proud and defiant Landers refusing to get down about the way with which Georgia lost to UConn. The Lady Dogs fought that game with their best effort and lost on a miracle shot. "We didn't lose," Landers said after that game. "You lose when you don't go out and apply the ability and talent that you have to the challenge that faces you. When you apply yourself like we did, you don't lose. You get beat."
No such statement could be made about last night's game. Georgia's offense fizzled but for a few brief runs, and the defense couldn't react quickly enough to the screens they knew they'd face. "They did what we knew they were going to do," said Cori Chambers. "They run off screens, and I didn't do what I needed to do to stop them." She wasn't alone, but unfortunately Cori has been the poster child for the feast-or-famine season. She set Georgia's career mark for three-pointers back in January, but she has battled through struggles on offense for much of the second half of the season while drawing some tough defensive assignments.
This has been a tough team to figure out all year, and it must be frustrating for Coach Landers to have to pull and plead to get results and leadership. They started the season beating teams like Rutgers and Stanford without Tasha Humphrey. After she returned, the team struggled for a bit as their identity changed. Then they got it back together for a second-place SEC finish that included wins over Vanderbilt, LSU, and Ole Miss. It ended with the wild swings in both the SEC and NCAA Tournaments.
Though the Lady Dogs lose Chambers and Hardrick, the future of the team is in a core of three freshmen honored this year by the SEC. At least six players will be joining the team next year, four of them in the backcourt. With Tasha Humphrey entering her senior year, the window is closing on building a championship team around her.