Thursday March 22, 2007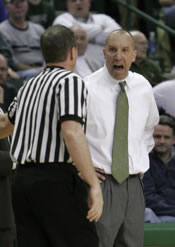 Waiting to hear from Mitch Barnhart.
FoxSports.com is reporting that Kentucky basketball coach Tubby Smith has been forced out and will take the vacant job at Minnesota. Not at Michigan – at Minnesota.
I'm not one to dance on graves. As a relatively ambitious man, I can understand why Tubby left Georgia for Kentucky. But I'm certainly not sad for him and definitely not sympathetic with the Cats. With the greater prestige of the job comes greater expectations and pressure. Now is the Minnesota situation in 2007 better than the situation Tubby came into at Georgia in 1995? I don't think so.
The college basketball world now waits to see if Billy Donovan will turn down the job.
Perhaps Tubby can continue his legacy at Kentucky much the same way he did at Georgia with a recommendation for his successor. Ron Jirsa is available.