Thursday March 15, 2007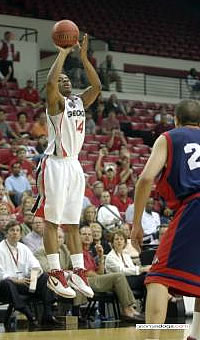 Chances are this shot went in.
(Photo: Georgiadogs.com)
Derrick Dukes was known for two things as a basketball player at Georgia in the late 1990s: never seeing a three-point shot he didn't like and also attempting some of the most fearless dunks seen at Stegeman since 'Nique.
He would have been proud of Fresno State last night. When they weren't putting up three-pointers (40 of them to be exact, a record for a Georgia opponent), they were trying lob passes and power dunks, often with spectacularly bad results. They hit a gaudy 18 of those three-pointers (also a record by a Georgia opponent), but all those shots served to do was to keep the game from getting completely out of hand. Georgia controlled this game in every way from style to tempo to statistics en route to an 88-78 win in the first round of the NIT. They shot well, outrebounded the opponent, and had an effective inside-outside game that the visitors couldn't match.
Fresno's scouting report must have simply read like this: "Deny Takais Brown at any cost." The game opened with the "other" Bulldogs doubling down on Brown and leaving Georgia's sharpshooter Levi Stukes without a defender in the same ZIP code. Used to intense pressure from SEC defenses who know him well, Stukes seemed to have a "WTF?!" look on his face when Fresno started the game by daring Georgia's career three-point leader to hit an open shot. He hit three of them in quick succession. Fresno State called a timeout and righted the ship, even taking a 22-17 lead, but the damage had been done. Those first three shots got Stukes' rythym going, and he didn't let up for the rest of the night. He scored 30 points and hit 8-of-9 from behind the arc to spark Georgia.
Only a toe on the line on his third attempt of the night and a shot before halftime that was just off the mark kept Stukes from tying the Georgia record for most three-pointers in a game (G.G. Smith hit nine of them – also in the NIT and also against Fresno State).
Fresno did a decent job of bothering Takais in the first half; they held him to just six points. The slack was picked up by Stukes and Dave Bliss. Bliss in limited action was effective against the smaller Bulldogs due to the attention given to Brown. He made the most of it and scored in double-figures. Brown got things going in the second half. With Fresno tired and dealing with some foul trouble inside, the added pressure of Stukes outside opened things up for Brown. He showed everything from a nice mid-range touch to strong post moves and scored 15 of his 21 points in the second half. His tendency to be deliberate with his post moves (really…he could be timed with a sundial) might have cost some additional chances to score, but he was often able to work out of those double-teams and pass the ball to an open shooter.
Defense (or lack of it) was on a lot of minds after the game. Some wondered why Georgia stayed in a zone (either a 2-3 or 1-3-1 for nearly all of the game) while Fresno proved to be effective zone-busters from outside. Coach Felton explained after the game that we would rather they take those shots than use their size and explosiveness against some bad matchups in a man defense. As it turned out, they hit just enough shots to make it interesting and keep it from becoming an ugly game, but Georgia took advantage and built their lead during the few shooting lapses Fresno did have.
The challenges are very different in the next game. Georgia advances to play at Air Force on Monday night. The time is yet to be announced, but we expect it will be 9:00. Air Force got a little fight from Austin Peay in the first half in their first round game, but they pulled away in the second half for a comfortable win to break a four-game losing streak. Air Force will be a test of patience and discipline for Georgia. The Falcons play that Princeton-style offense that lulls you to sleep and then kills you with backdoor cuts or penetration. They have an incredibly balanced and experienced starting lineup, so you can't count on them to make many unforced mistakes.