Tuesday March 13, 2007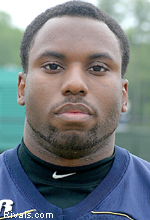 Photo: Rivals.com
The AJC's recruiting writer, Jeff D'Alessio, has an impressive introduction to incoming linebacker Charles White from Blythewood, S.C. From the reaction on the message boards today, he's already well on the way to becoming a fan favorite.
Really…read the whole thing. Some choice quotes:
I received a text message that I had a scholarship to the University of Georgia. And I promise you there was not a happier young man anywhere in the world. What a blessing.
I want to prepare myself mentally, physically, and emotionally to flourish in college. And push for a national championship.
I really pride myself on being a student of the game, but to do that you need to be under the instruction of teachers of the game. So I am looking forward to being on campus so I can learn every day.
After I committed, I really was blind to any other schools' sales pitches. I was and am firmly convinced that the best thing for me, my life and my family is to be a Georgia Bulldawg.
Academically at Georgia, I want to … Maintain a 4.0 GPA, major in psychology and also be named an Academic All-American.
How can you not pull for a guy like that?