Saturday March 3, 2007
I was a bit nervous about playing Kentucky in the SEC quarterfinals. They had just taken Georgia to overtime two weeks ago in Lexington. They were still alive for an NCAA Tournament bid, so they had plenty to play for. They had a chance to shake off the opening night jitters on Thursday.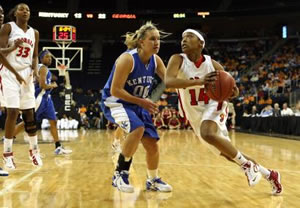 Blue by you: Janese Hardrick's penetration was just one of many things that gave Kentucky trouble.
(Photo: Jason Getz / AJC)
Fortunately, Georgia was ready. In no mood to have a repeat of a close overtime game, Georgia jumped out to a 12-0 lead and didn't allow a Kentucky basket for nearly eight minutes. The Wildcats went on a run of their own to close to within 16-12, but that was their last gasp on offense for the afternoon. Georgia led by 20 at halftime, didn't let the lead get below 19 in the second half, and eventually won 72-40. They held Kentucky to SEC Tournament record lows of twelve field goals and 20% shooting.
Poor outside shooting from both teams made this a battle of inside games. Georgia won decisively. They held Kentucky star Jennifer Humphries scoreless, and big center Sarah Elliott only had four points. Coach Landers said of the effort, "We had a reasonably good idea of what they were going to do and how they were going to go about doing that from an execution standpoint. Our kids locked in on it, disrupted it, stopped it, just stopped it."
Coach Landers had a great explanation of some of the defensive strategy in reply to a postgame question.
COACH LANDERS: Do you want me to explain what the strategy was? On the ball screen, step up hard with the post players very, very close, jam 'em and go under. Know that they're going to dishonor ball screens and drive it to the baseline, which is what they did yesterday: Drive it to the baseline, drive it to the basket and score. We're not going to let that happen. There's a way we defend against that.

They got a high low game. We're going to push 'em up, push 'em out, deny the four man out a little bit farther than she wants to be, extend the pass. Getting all this? You're not writing anything down now. You wanted to know this (laughter).

You know, on stagger screens, beat the guards to the first screen. They were running a lot of stagger screens. You can handle stagger screens. If you're behind when you get the first screen, you're dead. A couple times they got shots because we were behind.

What else? The elbow to elbow screen with their two bigs where they screen for each other and roll down the middle. The play we ran on them and scored, they run that a lot. Switch hard, disrupt the ball handler, drop in.
On the other end, Georgia kept feeding the ball inside and driving to the basket. They had 15 assists on 23 made shots, and they got to the line 26 times (and hit an impressive 24 of them). Landers gushed over the unselfish play from the guards. "We got kids on the perimeter that usually shoot the basketball. But, boy, they were just terrific on continuing to feed the ball inside, feed the ball inside, feed it in." Angel Robinson and Tasha Humphrey did a great job of getting position inside and then finishing on the passes that came from the perimeter.
Even with the big win, there are always things to improve on. Rebounding was one; though Georgia outrebounded Kentucky, they did give up 15 offensive rebounds. I guess that's going to happen when the other team misses 48 shots. The other area was outside shooting. Though Georgia didn't need the long ball and worked it inside effectively, they were only 2-11 on the outside shots they did take.
Contrast Georgia's outside shooting with that of their next opponent: Vanderbilt hit 11-of-15 three-pointers (73%) en route to a 105-77 drilling of Florida. Vandy can obviously shoot; that's no surprise, so Georgia will need another strong defense effort plus better shooting of their own if the Commodores remain hot. The Lady Dogs took an 83-71 win from Vanderbilt back in January as they broke open a close game with a 12-2 run midway through the second half and held on at the foul line down the stretch.
The Georgia-Vanderbilt semifinal will take place at around 9:15 on Saturday night at the Arena at Gwinnett Center. Single-session tickets should still be floating around before the game, so come on down. This game will be half of a great semifinal lineup. Tennessee and LSU will face off first at 6:45. Four Top 15 teams playing in one night – it's big-time basketball.
I'm looking forward to a fun triple-header of Georgia sports tomorrow. First we'll have Georgia baseball at 2:00 against Southern Cal. The Trojans are one of college baseball's most tradition-rich programs, and this is their first visit to Athens. At 4:00, the action moves over to Stegeman Coliseum for a Senior Day showdown with Tennessee. That should be an incredible game and a crucial test of Georgia's postseason mettle. That'll give us time to head back down 316 for the 9:15 Lady Dog semifinal. It's a full day, but it's a rare chance to catch three of Georgia's programs in one day playing some very significant games.