Monday February 26, 2007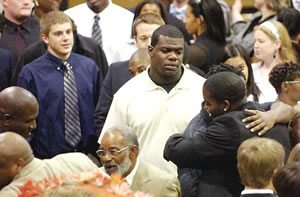 Photo: Athens Banner-Herald
On Sunday morning, Michael Lemon's Georgia teammates filled three buses to support him at the memorial service for his murdered mother.
"We just want to show Michael we're going to be here for him and be his family, and support him in any way he needs," said Rodney Garner, defensive line coach and the team's recruiting coordinator. Garner accompanied Lemon home Wednesday after the player learned of his mother's death.
The murder left Lemon and his brother Marquez on their own, and tonight it was announced that the University of Georgia Athletic Association has received permission from the NCAA to accept donations on behalf of Michael and Marquez.
Individuals interested in making a donation should make checks payable to the University of Georgia Athletic Association with "The Lemon Support Fund" notated on the memo line. Contributions should be forwarded to:

University of Georgia Athletic Association
c/o Eric Baumgartner
P.O. Box 1472
Athens, GA 30603
If you are able to contribute, please follow the instructions in the athletic association's press release. They are working hard to ensure that this fund adheres to NCAA rules, so we need to do things by the letter.