Tuesday February 20, 2007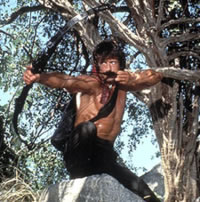 Please come across the middle.
We're just a couple of weeks past Signing Day 2007, and Georgia's 2008 class is already gaining momentum. Chad Simmons of UGASports.com broke the news last night ($) that Georgia's seventh and newest commitment is QB/LB/Ath Bacarri Rambo of Seminole County. Rambo plans to play safety at Georgia which would be a great position given his name. With a legacy of hard-hitting safeties from Phillips to Davis to Blue, we can't wait to see First Blood.
Rambo received an offer at last weekend's Junior Day and committed before he left Athens.
We just hope that those who brought us the Cherrishinski will avoid the temptation to create the Bacardi Rambo.