Sunday February 11, 2007
For much of Saturday night's game against South Carolina, the news was all good for Georgia. They were well on their way to another season sweep of the Gamecocks. They were shooting from around a 50% clip from outside while still getting the guys inside involved. They were playing disruptive defense. Levi Stukes became Georgia's top career three-point shooter.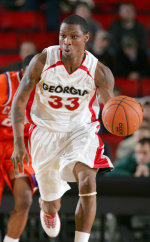 Though Georgia cruised to a relatively easy 73-54 win, they were hit with a devastating injury. With just under ten minutes remaining, Mike Mercer drove quickly towards the baseline, stopped abruptly, and had his right knee dislocate. The prognosis isn't good. According to head coach Dennis Felton,
"His knee did come out of socket. They were able to slip it back in socket probably within about 90 seconds. But there's significant ligament damage and he's likely out for the year."
Mercer will have an MRI on Sunday to determine the exact extent of the injury. The timing of the injury is very unfortunate: Mercer was just starting to turn his game around. After some pretty public criticism (including on this site), he showed much better shot selection and some more discipline on offense in the two most recent games. Before his injury, he had 12 points, five assists, four rebounds, and was shooting 50% from the floor against South Carolina – by far his most efficient offense in quite some time. "It's frustrating on behalf of Mike because he was getting back to playing very well," said Felton.
What Now?
While our first concern is with Mike and his recovery, we also have to think about the impact the injury will have on the lineup. Mercer led the team in field goal attempts, and until recently he had led the team in scoring. His strength on offense was an explosive drive to the basket, and he was a valuable defender and rebounder. Georgia's offense is losing one of its best slashers and transition finishers. Felton explained, "We don't have anybody else like Mike. He's got that kind of electric athleticism – very, very quick, very, very fast and long."
It seems logical that Terrance Woodbury will move into Mercer's starting role. He's a more prototypical small forward with a bit more size and bulk than Mercer though not as quick. Woodbury has shown some spectacular flashes on offense this year off the bench as his defense comes along. Many of us have wondered what Woodbury could do with more playing time, and I guess we'll get our wish now. Georgia might get a bit of a boost in the halfcourt offense with Woodbury's size and steadier shooting, but the tradeoff will come in the transition offense and in creating steals and turnovers.
If the Dawgs want to go smaller, Billy Humphrey made a case for more playing time against South Carolina. He scored 14 points on extremely efficient 5-for-6 shooting, had nine rebounds and five assists, and was a big part of Georgia's defensive effort with seven steals. Not a bad night for the sophomore – it was probably his best all-around game.
Mercer's injury will probably be felt most at the point guard spot. Mercer was already the backup-by-default at the position behind Sundiata Gaines because there aren't many other guards with point guard experience or skills on the team. Georgia suffered significantly when Gaines was injured in December, and now they have much less behind him. I would expect that Humphrey will see those minutes behind Gaines.
Georgia's next game against Kennesaw should be a laugher where they should have the luxury of lots of time in which to try different personnel groupings. The Auburn game next Saturday will be the first SEC test for the lineup with which Georgia will make its late push for the postseason.