Sunday December 17, 2006
Anyone familiar with – scratch that – anyone who has heard of Arkansas football knew four things were true about the Razorbacks entering this season:
1) They were absolutely loaded in the backfield with Darren McFadden – the SEC freshman of the year – and Felix Jones.
2) Arkansas ran the football because they could.
3) Their returning quarterbacks weren't very inspiring. The job might be handed to a true freshman right out of the gate.
4) When they did throw the ball, there was a very capable (and very tall) guy named Marcus Monk already established as the go-to guy.
Now armed with that information, any drooling ward of the state could figure that Arkansas would probably still run the ball a bit this year. Yes, they had a nice haul of receivers and a QB in the most recent recruiting class. Usually, it's understood that it takes a year or two for most newcomers, even potential stars, to make an impact. Not so with three Arkansas freshmen. Now all three played as true freshmen which says a lot in itself. And it's not like they didn't contribute. Mitch Mustain started more games than any other Arkansas quarterback. Damian Williams was second on the team in receiving…as a true freshman. But that wasn't good enough. The players grumbled because Arkansas won with their strengths in the backfield and not on recruiting promises. Williams will transfer, and the parents of the players have embarassingly inserted themselves into the story.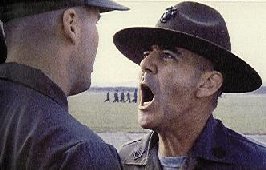 Coach Nutt wonders if he can be in charge for a while.
Two of the parents opened their mouths and showed us the real source of the problem here.
Rick Cleveland. He's the father of tight end Ben Cleveland. His greatest contribution to this story? This line: "Our boys are used to catching 60 passes a year." Do you know how many SEC receivers caught 60 passes this season? Five. Total. Marcus Monk, the junior already established as Arkansas' leading receiver, caught 49 passes this year in 13 games. Rick Cleveland believes that these incoming players were sold "a bill of goods" as a result. Yes, Mr. Cleveland…Arkansas will shelve the Heisman runner-up to have a true freshman throw the ball 60+ times to your son and some other true freshman.
Finally, we have Beck Campbell, Mitch Mustain's mom. She makes a very profound statement that will surely affect the coach-parent relationship everywhere. "It was agreed by all parties involved that the head coach has the valid right to determine the direction of the program and the manner in which the team would develop." I'm glad the parents had that meeting to iron out what every other coach, player, and parent has accepted throughout the history of organized football. In the words of Gunnery Sergeant Hartman, " Well thank you very much! Can I be in charge for a while?"
With parents like that, is it any accident that their children are throwing tantrums?