Sunday December 17, 2006
It's official – Neil Callaway will become UAB's new football coach. Congratulations to him. If you have to lose assistants, you want to see them moving on to better things instead of having to fire them. It's a sign that you've hired well. That's certainly been the case with Georgia's last few departures. Van Gorder and Smart both went to the NFL, and now Callaway leaves for a head coaching opportunity.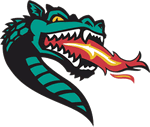 Callaway's a Blazer.
Callaway, fairly or not, has been somewhat of a lightning rod for fans during his entire time here. Fans have projected their distaste for Richt's offense or the zone blocking schemes onto Callaway. His role as offensive coordinator has never really been understood fully when Richt calls the plays. When Greene was sacked mercilessly in 2003 or when Georgia's "three-headed monster" of tailbacks didn't run wild, fans pointed the finger at Callaway.
The results speak for themselves though. Callaway's line has won the SEC East three times and the SEC twice. He's done that at other schools too. It's run-blocked for Verron and Musa, and it's pass-blocked for three of the most exciting quarterbacks to come through Athens. Even this year with very little depth and some polarizing starters, the Dawgs ended up with the second-fewest sacks allowed in the SEC. Not bad at all. The OL under Callaway has taken a lot of shots, probably far more than their share. Now his detractors have their wish.
Callaway's replacement will be starting over in many respects. Not only will the offensive coordinator position and the very nature of the offense be in question, but it will be a fresh start in terms of personnel too. There are a handful – only about three or four (depending on Ian Smith's future) – returning with any experience next year. There are at least nine newcomers on the way from junior college down to true freshmen. There are several redshirting freshmen who haven't seen playing time yet. New coach, new players. He'll have a fresh start in terms of the fans too, but we'll see how long that lasts.
People are already putting together wish lists of who should replace Callaway. Is it someone with an FSU connection or a UGA past? Is it a well-known name? Knowing Richt, it's just as likely to be someone no one mentions until the connections are put together after the fact. In many repects, this new offensive line coach will be coming into a much better situation than Callaway inherited. He will have a group of about 13 or more with which to work, and the classes will be somewhat staggered. Georgia also has a stronger position in terms of prestige and recruiting.
This really is a great opportunity for the right coach. Best wishes to Coach Cal, but it will be exciting to see how the new guy puts together the incoming talent and keeps the pipeline open. Job #1 is keeping the current commitments on board, and then it's time to start building. The bar has been set a bit higher than most people realize.