Wednesday September 20, 2006
The unfortunate start to Colorado's 2006 season has taken a lot of the steam out of what was a very interesting matchup when the series was announced. It is Georgia's first regular season major interconference game with an opponent outside of the ACC since Texas Tech in 1996. It's the first in a list of nonconference home-and-home series which will include Colorado, Arizona State, Louisville, and Oregon.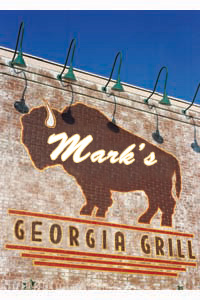 In other words, it should be a bigger deal than it is. It's the risk you take scheduling so far into the future; you have no idea whether Oregon will be a Nike-fueled PAC-10 juggernaut in a few years or if they will collapse under the indecisiveness of 3,827 uniform combinations. You schedule the "name" thinking you have a reasonable shot at a quality matchup, but we know how much of a crap shoot college football can be for all but a handful of teams. It's not quite what we expected when we took this step to beef up the schedule.
We're all familiar with the Golden Age of Colorado football. Over the eight seasons from 1989-1996, the Buffaloes averaged just under ten wins a season. They had ten or more wins in five of those seasons. Georgia fans in particular have a special appreciation for their 1990 National Championship season. We all remember Kordell Stewart's Hail Mary pass to Michael Westbrook in 1994.
Bill McCartney was the coach behind the Buffalo's most successful era, but Colorado's reputation as an out-of-control program began under his watch. It only got worse when Rick Neuheisel took over in 1995. Neuheisel was moderately successful but had nowhere near the level of success that McCartney had. By the time Neuheisel left for Washington in 1999, serious damage had been done to the program. The low point came after he left as an NCAA investigation resulted in sanctions and the forfeiting of the entire 1997 season.
Neuheisel was followed by Gary Barnett, the "it" coach of the mid-1990s who had brought Northwestern back off the mat (and who, I might add, was a popular fan choice during Georgia's coaching searches). Barnett lost further control of the program, and stories of drugs, rape, and harrassment overshadowed a gradual decline of the program. There was a brief resurgence in 2001 with a 10-3 season, but that has been the only year since the 1990s in which Colorado has lost fewer than five games.
If you want an overview of the problems which have built up in the Colorado program, give this a read.
But the relative collapse of Nebraska and the weak state of the rest of the Big 12's North Division meant that Colorado remained somewhat competitive even as problems built up. In 2001, they beat Nebraska 62-36 and upset Texas in the Big 12 Championship Game to earn a Fiesta Bowl trip. Even last year they managed to get into the Big 12 Championship Game with a 7-4 regular season record.
That brings us to the present. Barnett is gone. Dan Hawkins, formerly of Boise State is in and has the big rebuilding job. After starting the 2005 season 7-2, the Buffaloes have lost seven consecutive games. The power outage on offense is stunning. Since falling 30-16 to Iowa State to start their current losing streak, Colorado hasn't scored more than 10 points in a game. Over the final three games of 2005 and the first three games of 2006, they averaged 6.5 points per game.
Hawkins' job (well, one of them) is to revive that offense with the same efficiency he developed at Boise State. It hasn't happened yet. Point totals and yardage remain anemic. Reading Ching's synopsis of Georgia player and coach comments, you see that the Bulldogs think it's just a matter of time before things start clicking and the Buffalo offense gets going. Tra Battle's comments are especially interesting. "I hope we can force the same turnovers we forced last year (against Hawkins' Boise State offense). Because if we don't, it's gonna be a long day."
I don't think the day will be as long as Battle fears. Colorado hasn't clicked yet, and it's not likely they will against the Georgia defense after being punched in the gut for three straight weeks. Their defense isn't bad – there's not much shame in holding Arizona State to 21 points.
We'll see how much they can improve after Arizona State and coming all the way across the country. But it's saying a lot, and it's a bit of a shame, that the story of a live buffalo coming to the game is getting tons more attention than anything actually having to do with Xs and Os. The biggest question seems to be, "can Georgia get another shutout?" I think that's unlikely mostly because of the factors you need to come together beyond just defensive execution in a shutout, but I'll be happy if the Dawgs can continue Colorado's streak of scoring 10 points or fewer.
Hawkins is a good coach, so perhaps when Georgia returns the trip in a few years this game will take on the importance and stirred up the interest we might have expected from such an intersectional series.