Monday September 11, 2006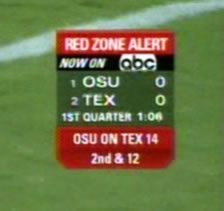 tOSU has it 2nd and 12. 12!!!
You're lucky we don't cut away entirely!
During the 1990s, there weren't many more marquee time slots for college football than the ESPN national 7:45 broadcast. Ron Franklin and Mark Gottfried were as good as it got in the booth. The late Adrian Karsten defined a new role for the sideline reporter. It was a great product.
How times have changed.
Mike Patrick is the face of the generic ESPN play-by-play guy. Women's hoops, college football…send in Patrick. Todd Blackledge is spot-on as always with his sharp analysis, but it seems to have less impact alongside the bland Patrick than it did next to the lively Verne Lundquist.
But there's another problem. Instead of holding on to its position as the place to see the best game of the week, ESPN's Saturday night game has become second-fiddle to whatever ABC has on at 8:00, and it's more than happy to bend over and advertise that fact.
Using such innovations as the "Primetime Pulse" and the "Red Zone Alert", those of us who lack remote controls and/or motor skills to change the channel if we want to watch another game get forcefed the game that ABC/ESPN/Disney really wants us to watch. It was such a transparent plea to get ESPN viewers to change the channel that Patrick and Blackledge had to half-seriously remind people to check back in on the game they were actually broadcasting. ABC wasn't so kind – I'm told there was no Primetime Pulse to give viewers a look at the interesting South Carolina – Georgia game. We shouldn't be surprised. All of the ads on ESPN's own Gameday show were for the ABC game and not for the game actually on ESPN later that night.
We know that ESPN and ABC serve the same corporate masters, so of course they want eyeballs where it serves them best. #1 vs. #2 is a huge game and brings in a lot of ad money. But isn't it kind of sad that the game everyone used to tune in for now just serves to go through the motions and pimp something on another channel?