Friday September 8, 2006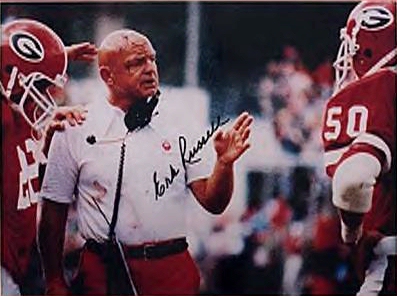 WTOC in Savannah is reporting that legendary Georgia and Georgia Southern coach Erskine "Erk" Russell died this morning of a stroke.
There aren't many more iconic figures in Georgia Bulldog football history. His loss is devastating to the Bulldog football family.
Erk was the head coach at Georgia Southern from 1981 to 1989 and led the Eagles to three Division 1-AA national titles. Prior to 1981, Erk had been Georgia's defensive coordinator for seventeen years.
He was a great man for many reasons, but the biggest might be because he made those he came in contact with better. His players wanted to play better so as to not let him down. Fans he met in life came away feeling better for having met and spoken with him. Even recent Georgia players who weren't even alive when Erk stalked the Georgia sideline wanted to be better Bulldogs after hearing a brief motivational speech from the master motivator. In his ideals, actions, and attitude on and off the field he leaves us an example any Bulldog player or fan can only hope to live up to.
GATA, Erk.