Wednesday August 9, 2006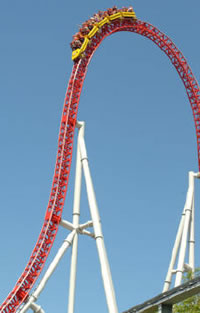 Welcome to August.
No news is usually good news in the month before the season.
Suspensions, injuries, and generally bad news dominates the preseason coverage. Fans are just dreading each additional update, peeking with one eye to see if we survived this afternoon without losing another lineman. We're so accustomed to the bad news that even good news can get turned around. Are the wide receivers looking good? Oh no! The secondary is toast!!! Is the offensive line playing like a brick wall? Noooooo!!! We have no pass rush!!!
The life of a football fan is a roller coaster of emotions, and there aren't many ups in the preseason. We crest the hill during the first week of August and enter a freefall as the updates and bad news and potentially bad news and the good news that we're sure is somehow bad comes flying past faster and faster until the season begins and we get that rush that makes us come back for the ride every year.
Injuries are an inevitable part of this time of year and the news we dread the most, especially when the injury is serious. The Dawgs seem to have recorded their first serious injury of preseason camp – UGASports.com reported today that redshirt freshman safety Antavious Coates is out for the year with an ACL injury. Coates also missed last season with an injury to his other knee. It's really tough to see a promising career derailed like this two years running. Just one knee injury is enough to alter some careers, and he's now dealing with two. We hope he can recover from this setback, because you can almost hear in his voice how much this hurts.
"I worked my butt off this summer and came here ready to play," Coates said. "It's hard."