Thursday July 27, 2006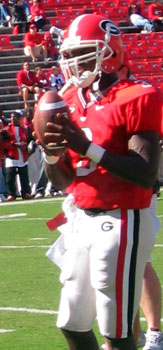 Now buying.
One good, one not so good.
First the good. D.J. Shockley signed with the Atlanta Falcons, a four-year deal worth $1.663 million including a signing bonus of $53,750. He sounds like someone who appreciates the opportunity and recognizes that he still must compete to make the team. It's not a certainty that he will survive the training camp cuts.
It's kind of like one of those dream-come-true moments. Everybody doesn't get to make it here, and I get to sign a contract with the Atlanta Falcons. It's a new thing for me. I'm ready to learn and see where it takes me. I'm trying to earn a spot on this team, and the best way to do it is to work hard.
Now the bad news. We've known for a while that Odell Thurman was in trouble for violating the NFL's substance abuse policy, and Wednesday the punishment came down: a four-game suspension. Odell was the Bengals' leading tackler last year as a rookie, but I guess the pot was a bit more important than building towards a pro bowl season.
(One side note to the Thurman story…he has a child by Kara Braxton, a former basketball player at Georgia and a current member of the WNBA's Detroit Shock. The WNBA wrote glowingly of the pair last year around draft time. She was enough of a mess to get kicked off the Georgia basketball team, and I just hope for the kid's sake that Odell's problems are treatable and aren't shared by Braxton. Those two don't exactly have a history of good choices in each other's company.)