Wednesday July 26, 2006
Steve Patterson of UGASports.com has an interview today with enigmatic defensive tackle Marquis Elmore. Elmore's had every nickname from "Mudcat" to the self-given "Zeus", but none of them have been heard much over the Sanford Stadium PA. He is one of those figures in sports more well-known for what he hasn't done. This is his senior year, and it's his last chance to make an impact.
Elmore arrived at Georgia as an elite five-star defensive prospect out of Charlton County. Given the success of some men named Bailey from his neck of the woods, the notion of another blue-chip defender from Folkston had Dawg fans salivating. But Elmore was a classic "tweener" on defense. While his combination of speed and size was devastating in high school, he was too slow to be an effective linebacker and too small to be an effective lineman in college. The coaches made that observation early in Elmore's career and moved him to the defensive line where he could begin adding bulk. A chronic back injury early in his career was the first of several medical setbacks, and he wasn't able to progress much neither in learning the techniques of a down lineman nor in adding strength and bulk for the leverage he'd need.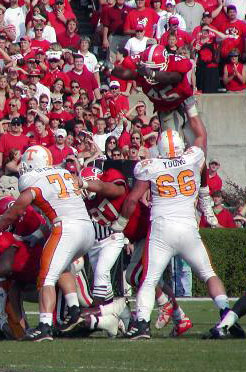 Boss turned out OK in his senior season.
(Photo: UGASports.com)
Georgia could use the depth at the defensive tackle position. Jeff Owens came on strong late last season to earn a starting job as a sophomore. Senior Ray Gant is the other starter, and he has had his share of injury setbacks. Redshirt freshman Kade Weston hasn't seen a second of action yet, but he's backing up Owens. Elmore and Dale Dixson are the other "veterans" on the line, but neither has done much with limited playing time. True freshman Ricardo Crawford is almost assured of playing time this year to help with the depth. With Crawford and the promising Owens and Weston pushing for playing time, the opportunity for a meaningful senior season won't be handed to Mudcat. "I know I am a senior, but anything I get I have to work for," he said. "I am going to push, push, and keep pushing."
Mark Richt told the Roswell Bulldog Club last week that Elmore is now up to 295 lb., a very reasonable target weight for a defensive tackle. Elmore is finally healthy. "I have been here four years and I feel like I have been injured the whole time," he told Patterson. But he knows that's not an excuse. "I am not the first guy and I am not going to be the last guy to come in and be plagued by injuries." Very true, and some of them have come back to leave their mark on Georgia football.
Right now, Elmore is unfortunately most well-known as the poster child for those who downplay the importance of recruiting rankings. The great thing about sports though is that all can be redeemed with one great season or even one great play. Boss Bailey, another top prospect from Folkston, was also feeling the heat entering his senior season. After decent but unspectacular freshman and sophomore seasons, Bailey's career was sidelined by a knee injury on the opening kickoff of the 2000 season (helluva omen, wasn't it?). He spent his junior season coming back from that injury, and it wasn't until his senior season in 2002 that Boss exploded into the stuff of legend (and earned himself a nice NFL paycheck).
I don't mean to suggest that Elmore is set up for a Boss Bailey-like senior season. Boss had much more of a foundation of success and playing time in his first few years and had earned a starting job. But the fact that we remember Boss as a star and an otherworldly blocker of kicks instead of the "bust" label some were throwing around entering the 2002 season shows that it's not too late for Mudcat (or anyone for that matter) to salvage his Bulldog career and contribute something enduring to the program's legacy.