Friday June 23, 2006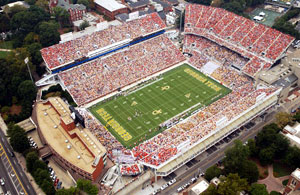 Yes, that many Auburn fans really did get tickets.
Georgia Tech's Bobby Dodd Stadium seats about 55,000 people. You would think that a name like Notre Dame coming to town (not to mention Miami later in the year) might cause demand for season tickets to go through the roof. Nope…remember, this is Tech. Tech will release 7,000 tickets for its opener against Notre Dame to the general public on July 1st. 7,000 tickets represents over 1/8 of this stadium. That is what remains after all season tickets, student tickets, comp tickets, and the visitor allotment have been handed out. To picture 1/8 of Sanford Stadium empty, imagine the visitor allotment for a big SEC game completely empty. Of course they will force those who buy one of these 7,000 tickets to purchase tickets to two other Tech games, ensuring sections of empty seats as people (surely most will be Notre Dame fans) eat those other tickets. Notre Dame will become the latest school to thank Tech for expanding its stadium to accomodate more visiting fans.
I'll even pump Tech up here for a second (and then promptly shower). They haven't missed a bowl game since 1996 (thanks to Chan's uncanny ability to consistently achieve college football's room temperature of 6 wins). They have played well in season openers lately against teams like BYU and Auburn. They beat Auburn and Miami last year. They have arguably one of the nation's most exciting and gifted players at receiver. Have I mentioned that Notre Dame is coming to town? Yet tickets remain.
I shouldn't be surprised. We're all familiar with the three-game packages we had to buy to see Georgia and the various other marketing plans Tech has come up with for lesser opponents. Still…the words "tickets remain" and "vs. Notre Dame" should never appear in the context of college football.