Friday April 28, 2006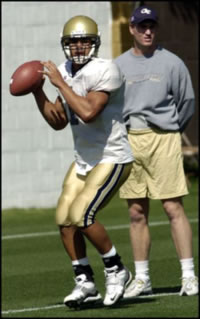 Tech coach Chang A. Lee has handed over the playcalling duties to offensive coordinator and former Auburn signal-caller Patrick Nix. I can understand Gailey wanting to take a step back – he's only a year or so removed from a heart attack, and managing the Tech program is stress enough for any man. But Nix?
Nix is, if you remember, the gentleman who instructed Reggie Ball to spike the ball on third down as an astonished Chan Gailey gave the world's best "WTF?!?!?" look on national television. In addition to his offensive coordinator duties, Nix is also quarterbacks coach. Since George Godsey threw a perfect pass to Tim Wansley in 2001, the Tech quarterback position has been a nice jambalaya of transfers, position changes, zero depth, and the stuck-in-neutral career of Reggie Ball. If he can do for the Tech playcalling what he's done for the development of Ball, well…that'll be just fine.
GSB put it well once again…imagine the contrast in the season opener. Charlie Weis called plays for the Super Bowl champ and poured gasoline on the Notre Dame offense. Patrick Nix is still trying to find a way to get the ball to Calvin Johnson that isn't a fade or a 12-yard pass to the sideline.