Tuesday April 25, 2006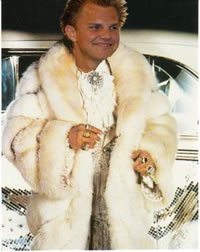 The ridiculous hype around the commitment of Jimmy Clausen to Notre Dame (addressed well by Dennis Dodd here and skewered nicely by Georgia Sports Blog here) has made for great comedy over the past few days as Clausen looked more like Liberace than an elite QB showing off his rings. Georgia fans have been party to several recruiting spectacles over the years, and I'd like to take a stab at what I think are the top 5. This list has nothing to do with hype vs. production – some panned out and others didn't. I'm talking about five guys who when they committed or signed put the Bulldog hype machine into overdrive. I'd be interested to hear about any others from the 80s or even from the pre-Herschel era.
5. Jasper Sanks
"The next Herschel Walker" label has cursed many Georgia tailbacks with inflated expectations, but none felt the crushing weight of these expectations like Sanks. Recruiting lore tells us that Georgia targeted Sanks over fellow in-state prospect and future Vol Jamal Lewis. Georgia had the back they wanted to carry on the Robert Edwards legacy, and the dancing in the street began. Things turned sour almost immediately. Sanks failed to qualify out of high school and went off to Fork Union for a year of prep school. His freshman year in 1998 was essentially wasted by the coaching staff when he saw spot duty in what could have been a redshirt season. His career peaked in 1999 with around 900 yards of rushing (the highest single-season rushing total between Garrison Hearst in 1992 and Musa Smith in 2002), but that 1999 season was also marred by two critical fumbles* against Florida and Georgia Tech.  Sanks, plagued by weight and conditioning issues throughout his career, eventually gave way to freshman Musa Smith in 2000 and was eventually dismissed from the team late in his senior season of 2001.
4. Eric Zeier
In 1991, Ray Goff decided to completely change the Georgia offense. The SEC was in a period of transition, and the Dawgs were under pressure to modernize their offense in the post-Dooley era. Goff hired Wayne McDuffie to be the mastermind behind the new offense that would eventually earn the nickname "Air Georgia". But McDuffie needed a different kind of quarterback to run his offense. The option-style quarterbacks of the past didn't have the passing skills to run the system. Around the end of 1990, McDuffie got his quarterback – Eric Zeier of Marietta. Eric Zeier had taken root in Marietta after living on a military base in Germany and had set the Georgia high school community buzzing about his arm in just a few short years. He arrived on campus to find an established starter and a full-blown quarterback controversy, but he grabbed control of the starting job by leading the Dawgs to an electrifying upset win over #6 Clemson. Though his last two seasons at Georgia were a disappointing jumble of offensive imbalance and defensive ineffectiveness, Zeier left Georgia as a hero and made sure that there would be no looking back towards the offenses of the Dooley era.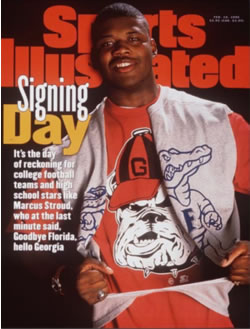 3. Marcus Stroud
By early 1996, Georgia's situation with Florida was dire. Not only had the Gators won six straight over the Bulldogs, but the Gators had also come into south Georgia to get a verbal commitment from superstar defensive tackle prospect Marcus Stroud. But on Signing Day, Stroud pulled one of the all-time recruiting surprises when he switched his commitment to Georgia. The moment was captured for posterity with a Sports Illustrated cover, and Stroud became the poster boy for the hope that things would change against Florida and that Georgia was on the way back up. It was an immediate triumph for new coach Jim Donnan, and Stroud played a part in ending the losing streak against Florida in 1997. He's now one of the top defensive tackles in the NFL and has done plenty to live up to that SI cover.
2. Andre Hastings
Another Sports Illustrated tie-in vaults Hastings up to #2. When SI includes you on a future NFL All-Pro team when you're still in high school, the hype machine has hit full stride. Andre Hastings was one of the top receiving prospects in the nation as demonstrated by the Sports Illustrated publicity, and the recruiting battle was fierce. To make things worse, Hastings didn't sign on Signing Day and had coaches like Bobby Bowden and Lou Holtz (not to mention Georgia's staff) hanging on his decision. The signing of Hastings and Garrison Hearst was one of the first huge recruiting coups for second-year coach Ray Goff. Hastings didn't really take off until Zeier and "Air Georgia" arrived in 1991, but by 1992 he was clearly one of the best receivers ever to play at Georgia. He and Hearst left for the NFL after that junior season which put Georgia back into the Top 10. Hastings was a third-round selection of the New Orleans Saints and, while never the All-Pro forecasted by SI, had a fair NFL career with a couple of teams.
1. Herschel Walker
According to some recruitniks, the pursuit of Herschel Walker did more than anything else to usher in the attention paid to the "second season" that is football recruiting, especially in the football-crazy South. The battle between Georgia and Clemson for Walker lasted well past Signing Day until almost Easter of 1980. The stories of Mike Cavan pulling out all the stops to land Walker are legendary. Without the Internet to spread news, the fanatics starved for updates on Walker's decision, and the fledgling recruiting industry was given a huge shot in the arm.
Within a few years of Walker's decision, the magazines, newsletters, and 900 numbers fed this hunger among the small but passionate group of recruitniks until the Internet revolution of the mid-1990s began to bring the recruiting process to the casual fan. Now prospects use the machine of the recruiting industry to create their own hype by holding Signing Day press conferences or making their decisions on television. The system has evolved (or, more accurately, devolved) to the point where a high school junior makes his decision public at the College Football Hall of Fame, sending pundits shrieking about the "biggest commitment in 25 years".