Thursday July 31, 2008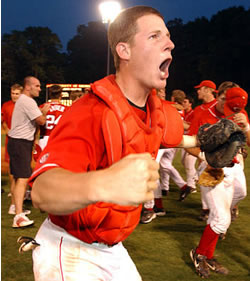 Sammons celebrates winning the 2004 Athens Regional.
Sammy set the standard for Georgia catchers in the early part of this decade, and his defense behind the plate was a big part of Georgia's run to the College World Series in 2004.
Sammons made his major league debut last season for the Atlanta Braves, and he recorded his first career MLB hit.
He was brought back up to the majors this week after Braves' catcher Brian McCann suffered a concussion. Though he's known for his defense, his offense broke through Thursday evening, and he notched both his first RBI (with a single in the 4th inning) and home run (2-run shot in the 6th) as a big-leaguer (see video). Sammons finished the night 3-for-4 with 3 RBI and a home run to lead the Braves past St. Louis 9-4.
Congratulations to Clint, and hopefully we'll see lots more of him in the majors.