Friday March 14, 2008
A severe thunderstorm, possibly tornadic, caused structural damage to the Georgia Dome and disrupted the Alabama-Mississippi State SEC quarterfinal in progress. Television cameras showed the structure swaying, and later shots showed holes in the side of the Dome as well as some siding ripped off of the building. Broken windows and downed utility poles and trees were evident downtown.
Fortunately there seemed to be no serious injuries in the Dome. There was also no shortage of Alabama fans to interview about hearing a freight train.
The storm caused a 60+ minute delay before play resumed, and Mississippi State hung on for the overtime win.
When we hoped that the Dawgs would play on Saturday, this isn't what we meant.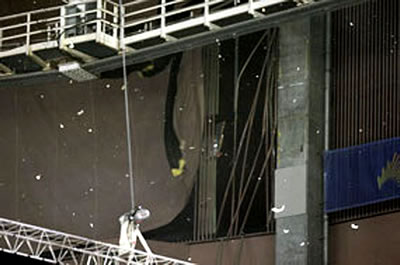 Photo: Atlanta Journal-Constitution