Friday October 19, 2007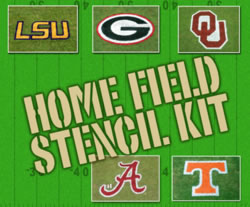 There are lots of ways to enjoy the bye week. I'll be watching games at home and getting things in order for next week's trip to the WLOCP. What will you be doing with the time?
If you're stuck looking for something to do, why not stencil your favorite team's logo on your lawn using professional-grade materials from the same people who paint the real thing?
Decorate your yard with the official logo of your favorite college team. Stencil kits come with four cans of World Class aerosol field marking paint in your school's colors.
The product is currently available only for Alabama, Georgia, LSU, Oklahoma & Tennessee. Of course it is – there are only about three other fan bases (all in the SEC) who are bat-$#%* crazy enough to buy something like this.
PS…bonus points to this company for the use of "Georgia Tech University".